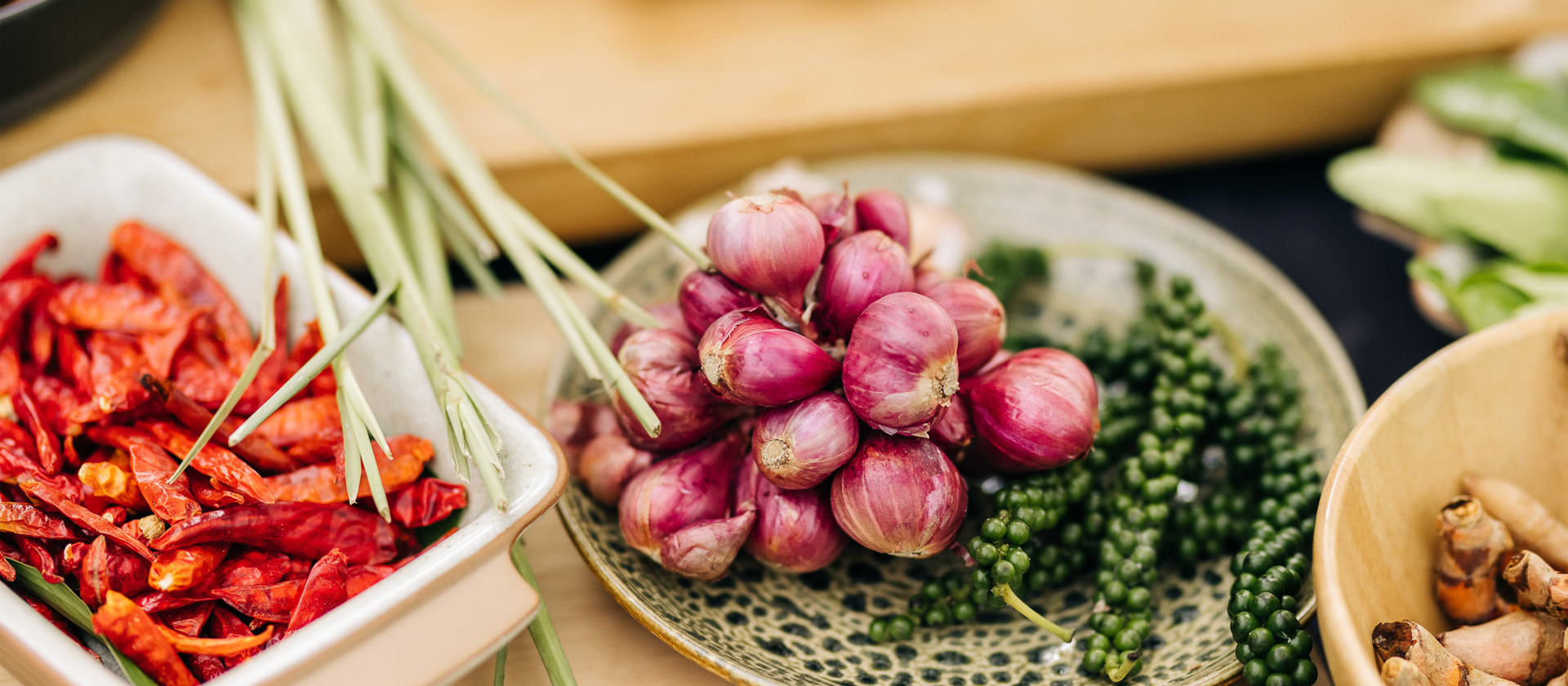 A WORLD OF FLAVOUR
INTRODUCING OUR SUPERSTAR private CHEFS
Craving a luxury vacation with your own private chef? Guests at ÀNI Private Resorts can expect unforgettable mealtimes, artistic dishes and culinary fireworks of every flavor, thanks to our superstar chefs. At our four exclusive-use resorts in Thailand, Anguilla, Sri Lanka and the Dominican Republic, our approach to dining is tailored to each group that stays with us, reflecting the creativity, passion and expertise of our private chefs. The best bit? Our full-board rates include every single meal, snack, dessert and drink..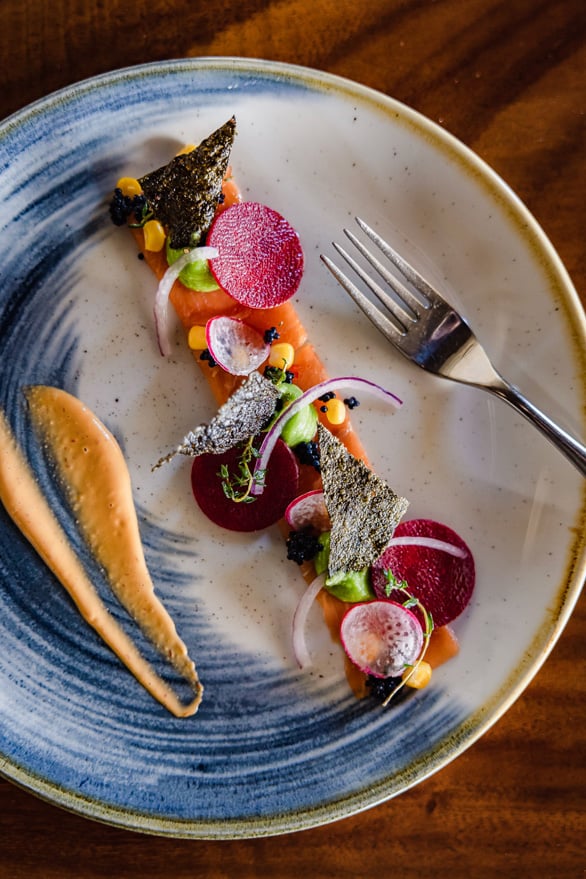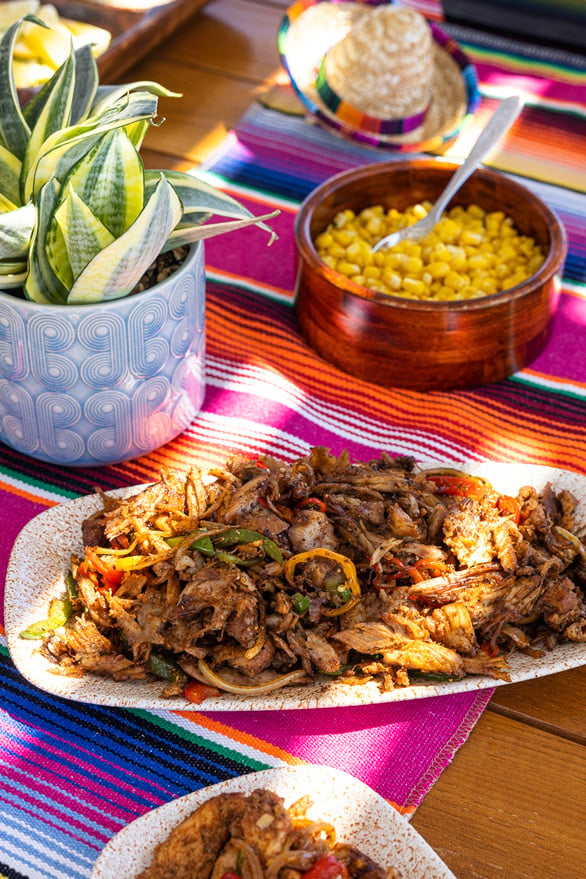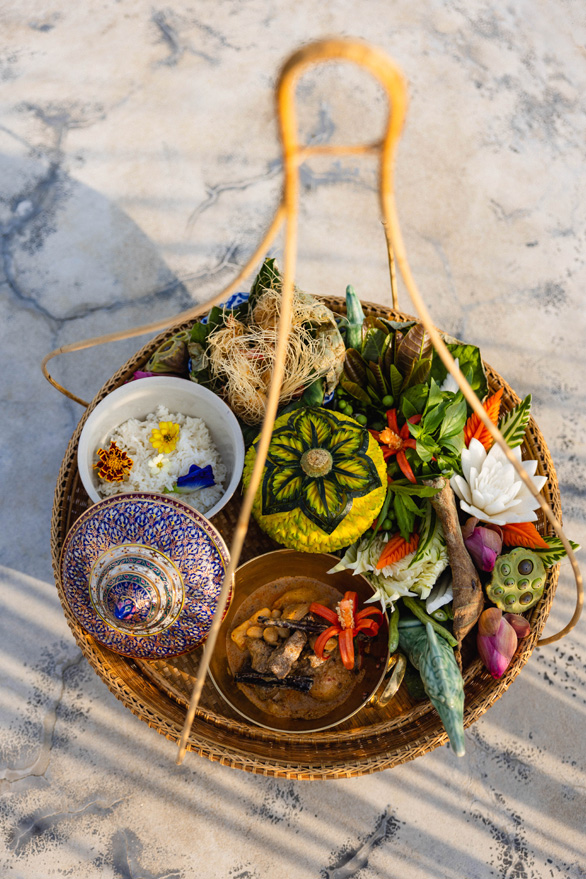 Pre-arrival, our team will be in touch to discover your culinary preferences, developing personalized menu suggestions to match. The local cuisine will of course be showcased with love and flair, but guests can also enjoy a choice of international options, with special emphasis on your favorites. Our attention to detail extends to every aspect of the dining experience, from regionally inspired welcome snacks and daily changing hors d'oeuvres to fresh-squeezed juices, delicious patisserie, family-style lunches (Japanese, French, Thai, Mexican and more), local teas, nibbles and decadent dinners. abilities, from slow-paced to playful and energetic. Guests can enjoy yoga, tennis, impromptu cricket matches, beach volleyball, beach strolls, personal training sessions and more.

Drawing upon the abundant natural charms of each resort's location, we craft unique culinary experiences in an array of locations, so no two meals are the same. Enjoy our complimentary breakfasts, lunches and dinners at all resorts, as well as unique, off-property excursions to reflect each destination: from an Ayurvedic lunch served in a doctor's house in Sri Lanka to a paddy-field breakfast in Thailand, beach barbecues in the Dominican Republic and nautical feasts in Anguilla.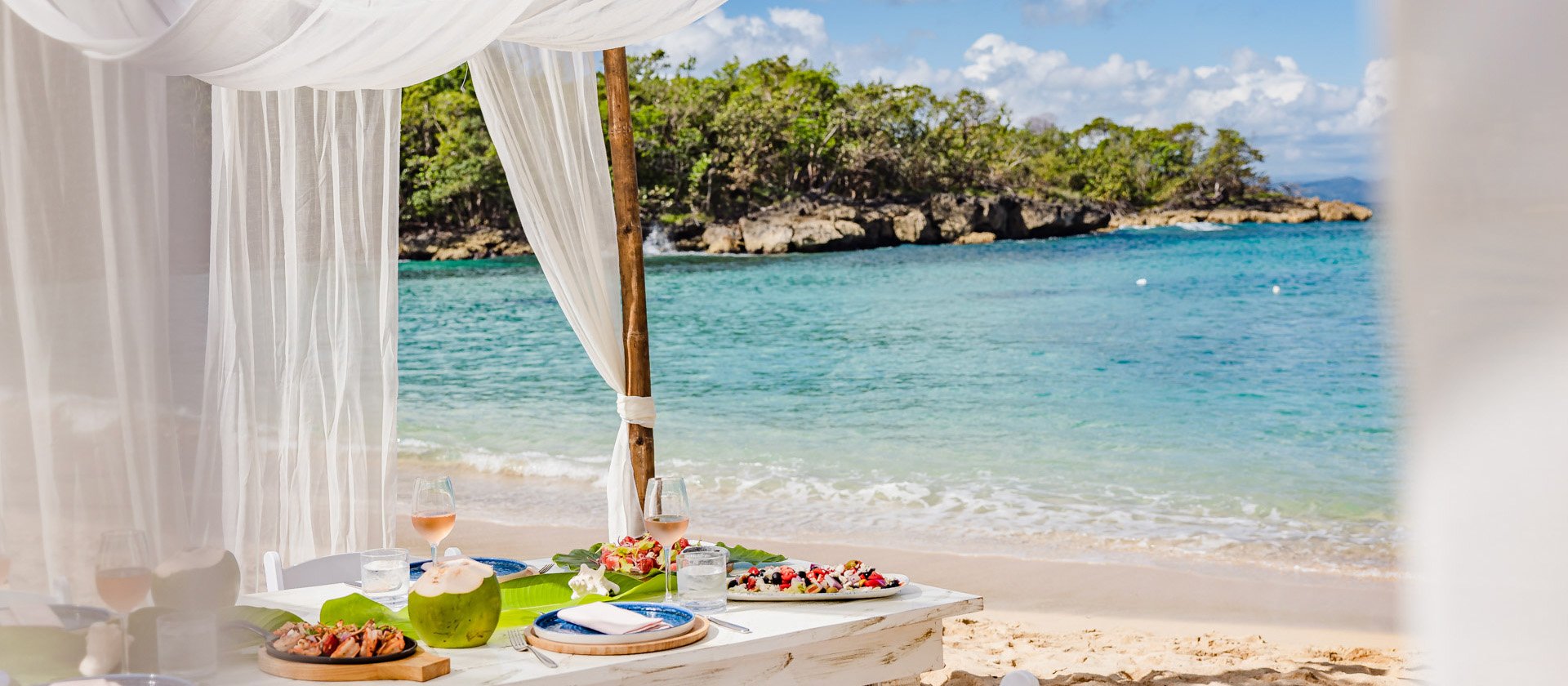 Each of our chefs prides themselves on catering to everyone and every requirement (celiac, gluten-free, halal, kosher; you name it), offering dietary adaptations to individual dishes. All guests can enjoy an elevated experience without compromise: no miserable meat-free options or lazy ingredient subtractions here. Everyone gets the same beautiful cuisine, with creative adjustments where needed. To help you enhance your own cookery skills for the folks back home, we even include complimentary cookery classes with our chefs within our all-inclusive rates.

We'd love to tell you more about our kitchen heroes. At ÀNI Sri Lanka, Chef Cyril has a knack for dazzling presentation, using edible flowers as ornamentation and transforming ordinary leaves and shells into innovatively styled receptacles, platters and eating utensils. Over in Thailand, Chef Yao draws upon his family's farming background, cultivating his own produce at ÀNI Thailand, and showing guests how green peppercorns, lemongrass, and sweet basil find their way from the earth to the plate.

Chef Parash, who supports Chef Karan and Chef Juan in overseeing the menus at ÀNI Anguilla and ÀNI Dominican Republic, is adept at blending the flavors of Asia with classical international cuisine. Riffing on his musical background, Chef Karan possesses his own unique creative touch, and Chef Juan creates delectable dishes, sourcing the best ingredients in the Dominican Republic from our very own local town of Rio San Juan. We sat down with these talented experts, asking them a couple of insider questions.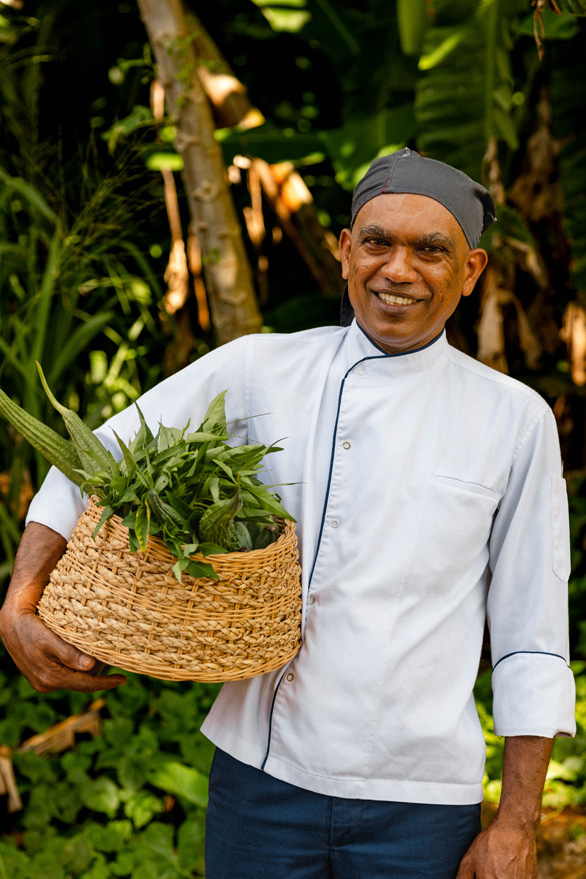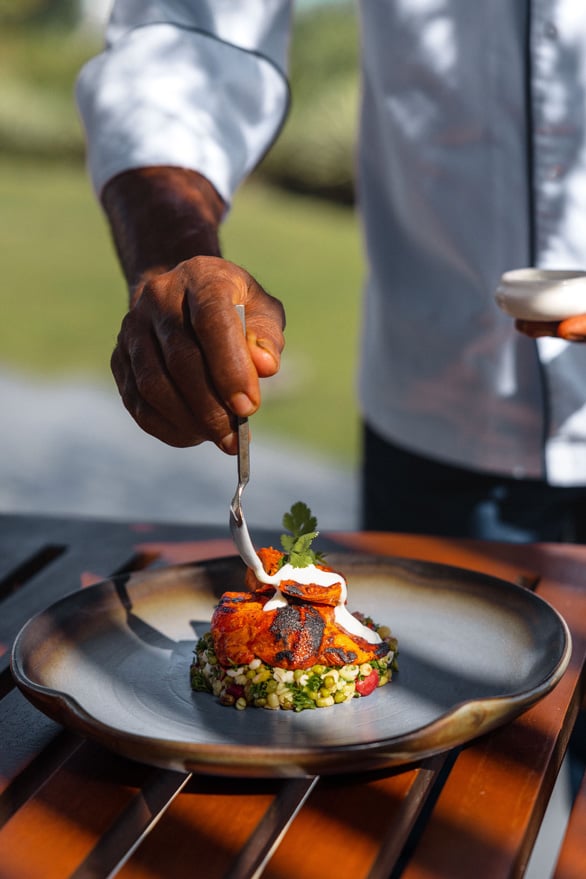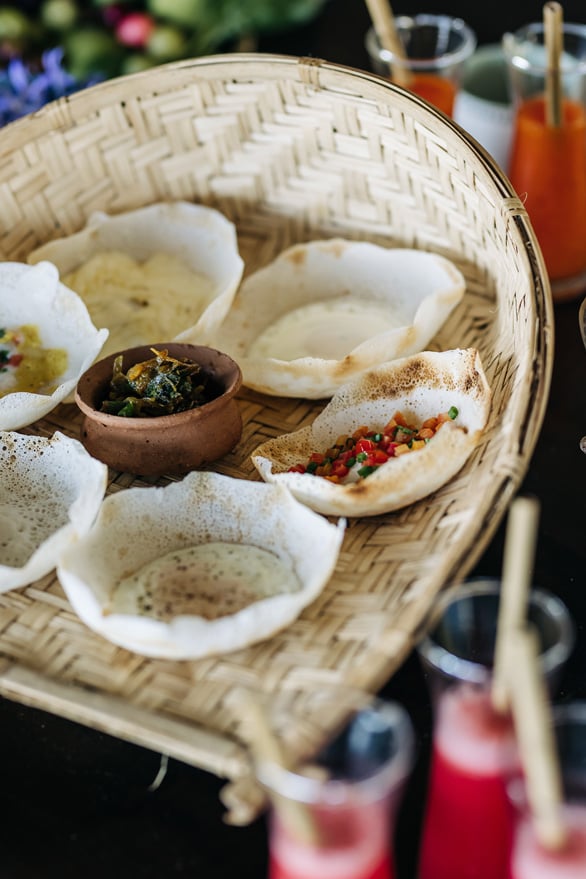 Chef Cyril began his kitchen training aged four, helping his mother cook rice and even learning how to flay fish. Following culinary school, he worked at the Calamander Beach Hotel in Galle, followed by stints at Soneva Fushi and the Diamonds Thudufushi Water and Beach Villas in the Maldives, Sri Lanka's iconic Lighthouse Hotel, Dubai's World Trade Centre Club and Amanwella in Sri Lanka.

Chef Cyril, what dish at ÀNI Sri Lanka are you most proud of – and why?
"Sri Lankan Hoppers: bowl-shaped crispy pancakes, prepared with coconut milk and rice flour, with a hint of coconut toddy. Hoppers come as plain hoppers, which can be enjoyed with curries and condiments, or egg hoppers, cooked with an egg in the middle, to which some favorite fillings can be added such as ham, cheese, green chili and spring vegetables."

What one ingredient or cooking utensil would you take to a castaway island – and why?
"My main ingredient is coconut, used in many Sri Lankan and Asian dishes. I would also take cinnamon: the authentic spice that creates our signature taste. If I were sent away to a castaway island, I would take my hopper pan, which I can use to cook some other dishes with as well. Moreover, I love giving a hopper pan (with a recipe and ingredients) to guests who share my passion for them.."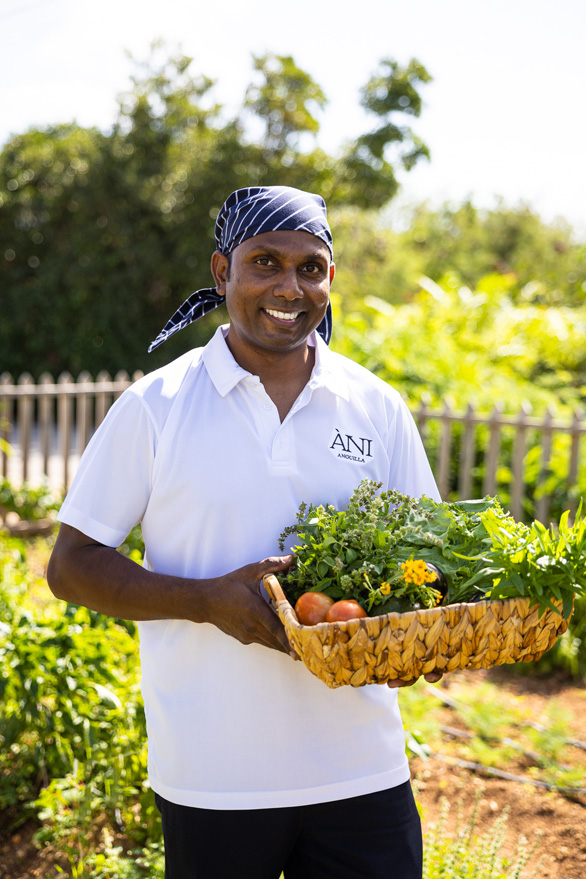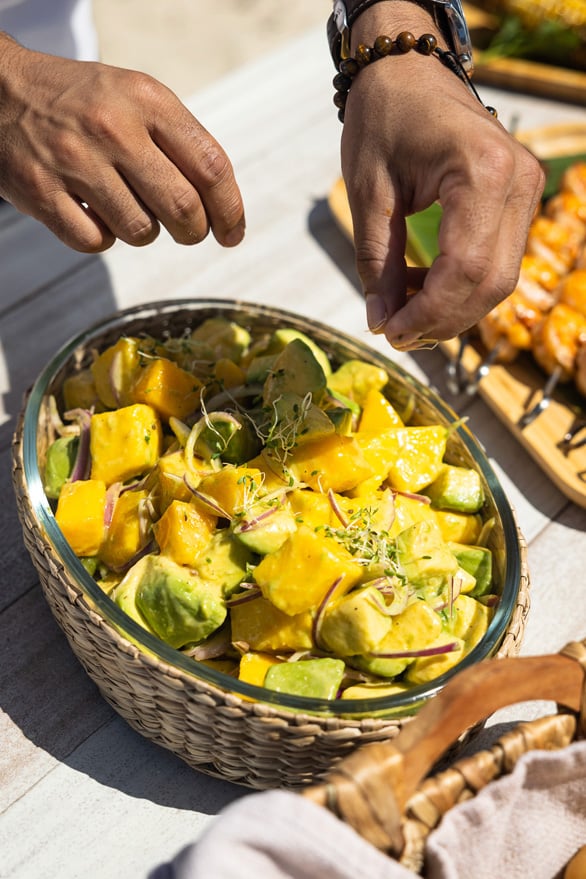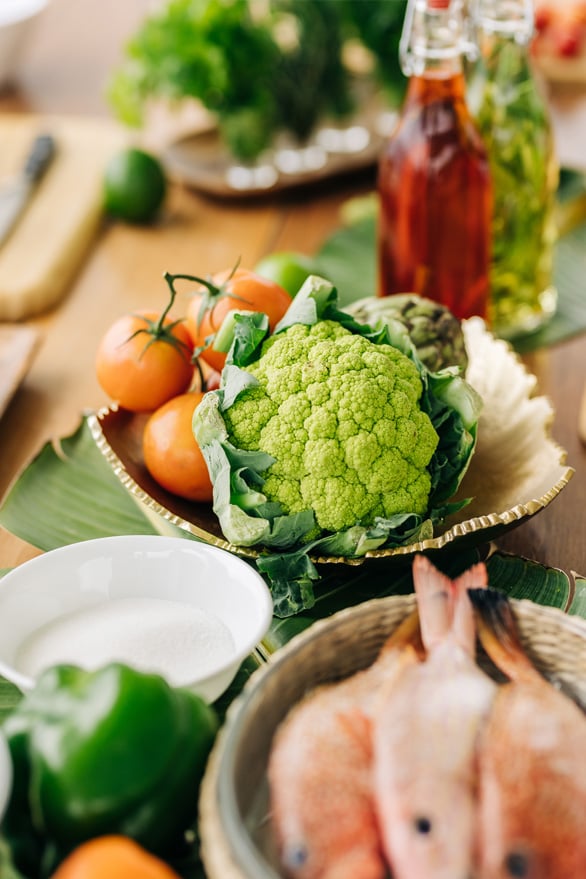 Growing up in India, Chef Karan Kumar was always inspired by his chef father, whose food garnered international renown. Moving to Anguilla after school to help support his family back home, Chef Karan initially worked as a DJ, before deciding to follow in his father's footsteps. Over 20 years, he mastered the culinary arts, joining ÀNI Anguilla in 2018.

Chef Karan, what dish at ÀNI Anguilla are you most proud of – and why?
My conch ceviche captures the essence of a sun-kissed day on the island, enriched with tropical flavors. Its lightness renders it invigorating. I am particularly grateful for the opportunity to share my expertise with our guests during our cooking class, in which I reveal my conch ceviche recipe.

What one ingredient or cooking utensil would you take to a castaway island – and why?
Tarragon, due to its exceptional aroma, which harmonizes with an array of culinary creations, ranging from savory meat and seafood dishes to refreshing salads and succulent poultry preparations. Remarkably versatile, this herb even finds its way into the realm of bakery and pastry. In terms of culinary tools, the scales reign supreme in my kitchen. Their indispensable presence ensures an unwavering consistency. Regardless of whether I am engaged in gastronomy or pastry, the scales remain my trusted companion, helping me to uphold the highest standards of excellence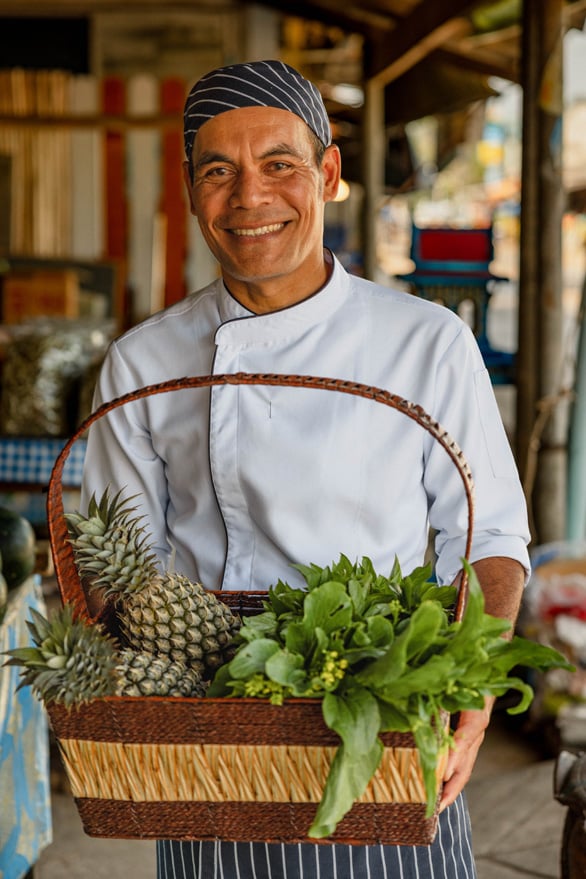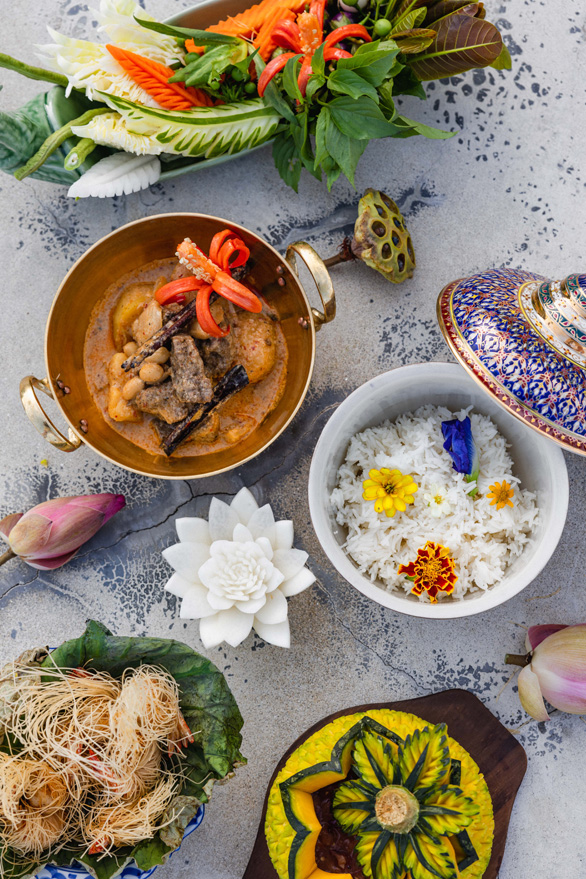 Born in Trang, not far from ÀNI Thailand, Executive Chef Kanawat Iadnuch (Chef Yao) began cooking aged eight. He would help his grandmother prepare local dishes and Thai desserts, then take them through the neighborhood, serving the community. After excelling at culinary school, he worked at Amanpuri and Aleenta, before joining ÀNI Thailand from its inception.

Chef Yao, what dish at ÀNI Thailand are you most proud of at the resort – and why?
My signature pomelo salad, which is refreshing, light, healthy and full of flavor. All the guests love it!

hat one ingredient or cooking utensil would you take to a castaway island – and why?
The ingredient is coconut, an essential ingredient for Thai food, and one that grows lavishly here. The cooking utensil I would take is a carving knife. I use it a lot, especially for my fruit and vegetable carvings.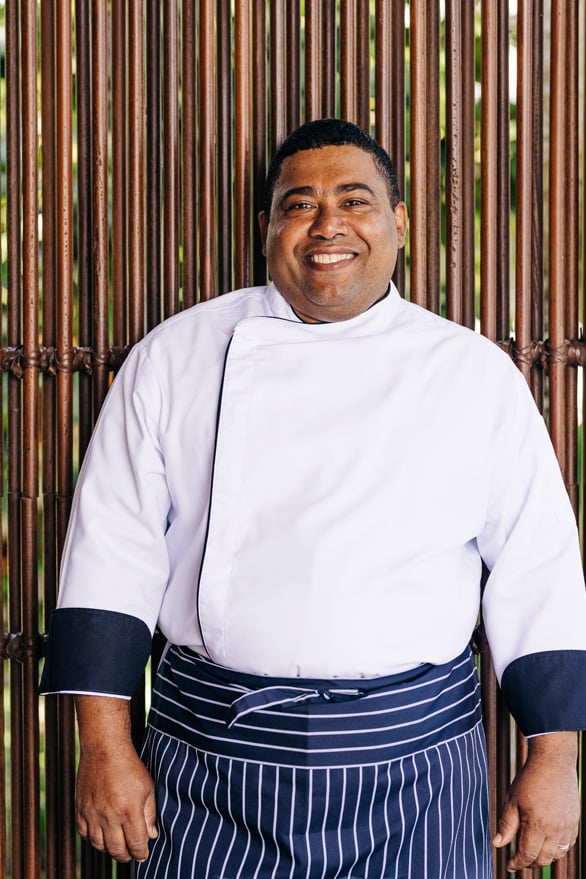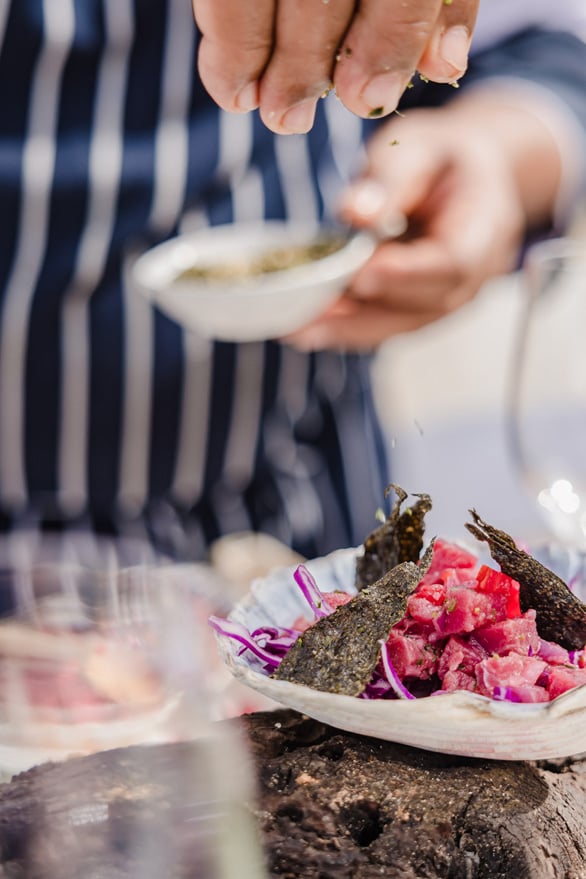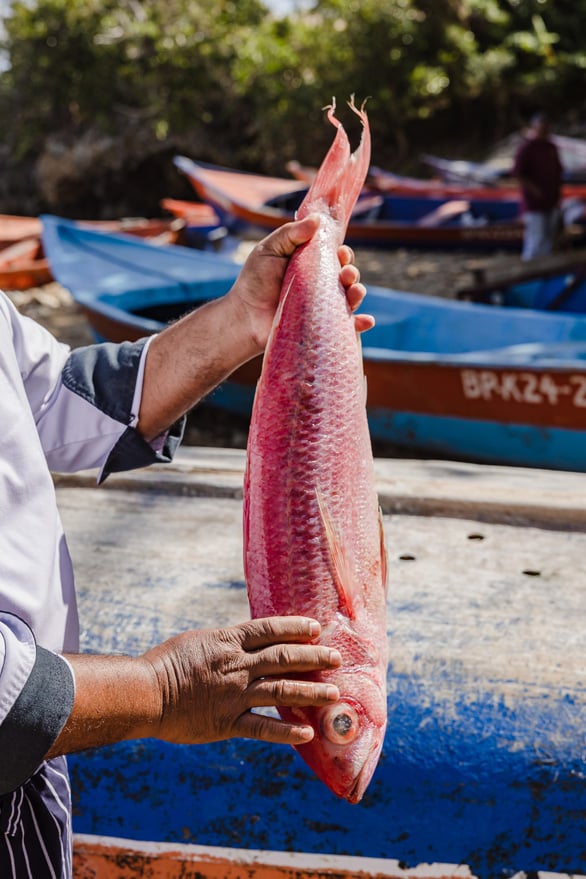 Born in the historic port city of Puerto Plata, in the north of the Dominican Republic, Executive Chef Juan Gilberto Mena's culinary journey was inspired by his uncle: a highly respected chef. Juan worked at his uncle's restaurant from the age of 15, followed by culinary school and a 30-year career spanning the Dominican Republic and Cuba. Stints at luxury resorts such as the Melia Paradisus and Blue Diamond's, Royalton and Memories preceded his role at ÀNI Dominican Republic.

Chef Juan, what dish at ÀNI Dominican Republic are you most proud of – and why?
A pan-seared local red snapper with coconut and thyme sauce. During my adolescence, I had the privilege of acquiring culinary skills under the tutelage of my uncle, a skilled chef, at his restaurant. This dish pays homage to that time, and its flavors transport me back to the essence of island life and the tropical climate. The profound joy it brings is a cherished memento of my culinary journey.

What one ingredient or cooking utensil would you take to a castaway island – and why?
Herbs possess the remarkable ability to metamorphose ordinary ingredients into extraordinary creations. The versatility of thyme never fails to captivate me, as it imparts depth and complexity to a humble sauce or enhances the succulence of roasted meats.

My chosen tool is a razor-sharp knife, which embodies a chef's unwavering commitment and passion. On a solitary castaway island, my trusty knife would become my cherished confidant.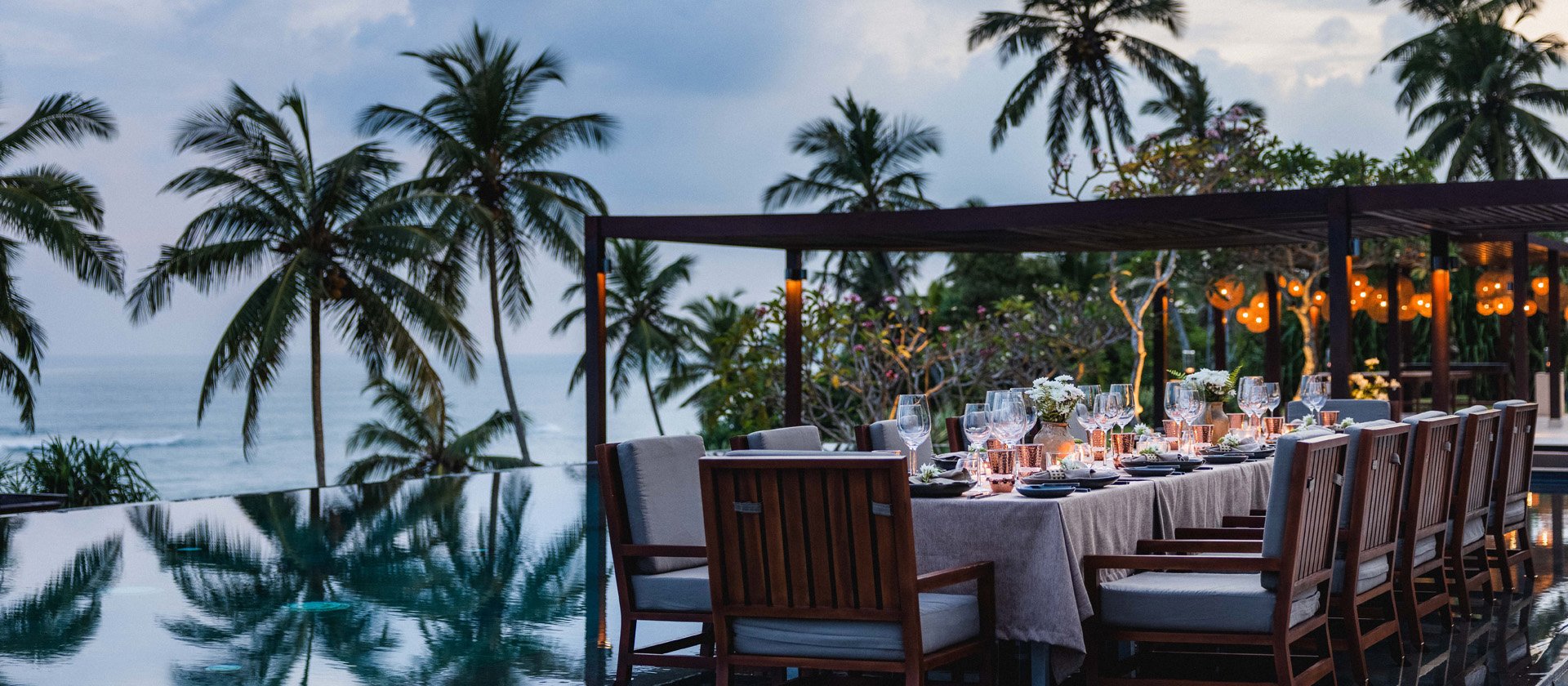 EDIBLE HIGHLIGHTS
FROM OUR PRIVATE CHEFS

As a final temptation for your taste buds, we've curated some edible highlights with a local focus at each resort, thanks to these genius chefs. Enjoy.

ÀNI Sri Lanka: Discover how broad a term 'curry' really is, sampling a multitude of delicious dishes – green bean and cashew curry, dhal, leek and potato curry, tempered okra, seer fish curry, tuna fish cutlet, brinjal moju – and enjoying treats from live cooking stations: hoppers, kottu, sambal and so on. End on a sweet note with caramelly local desserts such as coconut and jaggery pudding or sago.

ÀNI Dominican Republic: Our Dominican dinner showcases local favorites such as 'Sancocho' soup (a mixed meat stew with sweetcorn), whole fried red-snapper with coconut and cilantro, goat stew with Caribbean herbs, 'Lechon Asado' (slow-cooked pork), overbaked ripe plantain, tostones and tres leches dessert.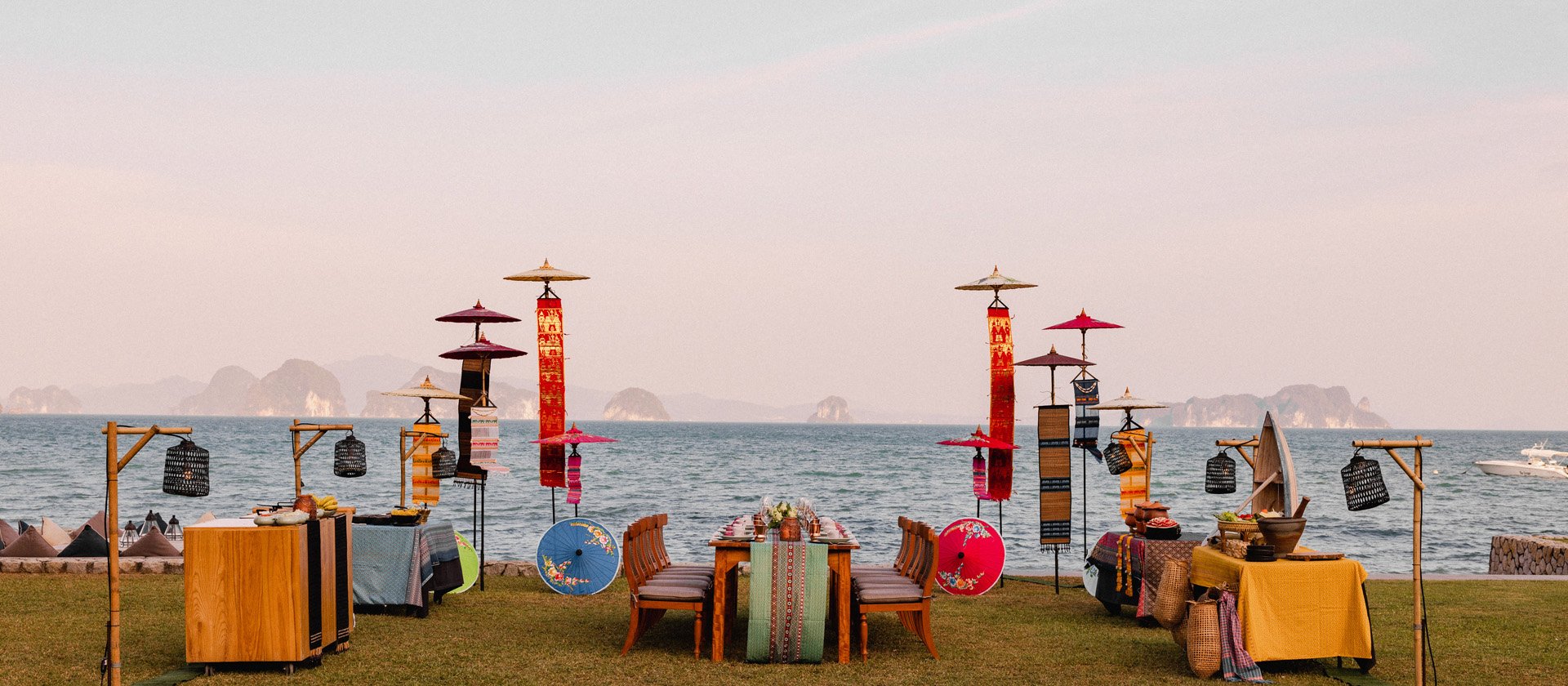 ÀNI Thailand: Our Thai Market Dinner celebrates the vibrant freshness of Thai cuisine and its punchy use of spice. Sample regional dishes, from chicken curry noodle soup from northeast Thailand to the much-loved pad Thai from the Central Province, grilled chicken with papaya and honey representing Northern cuisine, roti representing the South, and a mixed Thai dessert to close.

ÀNI Anguilla: At our Caribbean beach barbecue, munch on succulent smoked pork baby-back ribs with passionfruit barbecue sauce, grilled crayfish with brown butter, and Jerk chicken, served with sides of Johnny cakes, corn on the cob and sweet dough rolls. For dessert: choc-chip cookies with hot fudge and vanilla ice-cream.