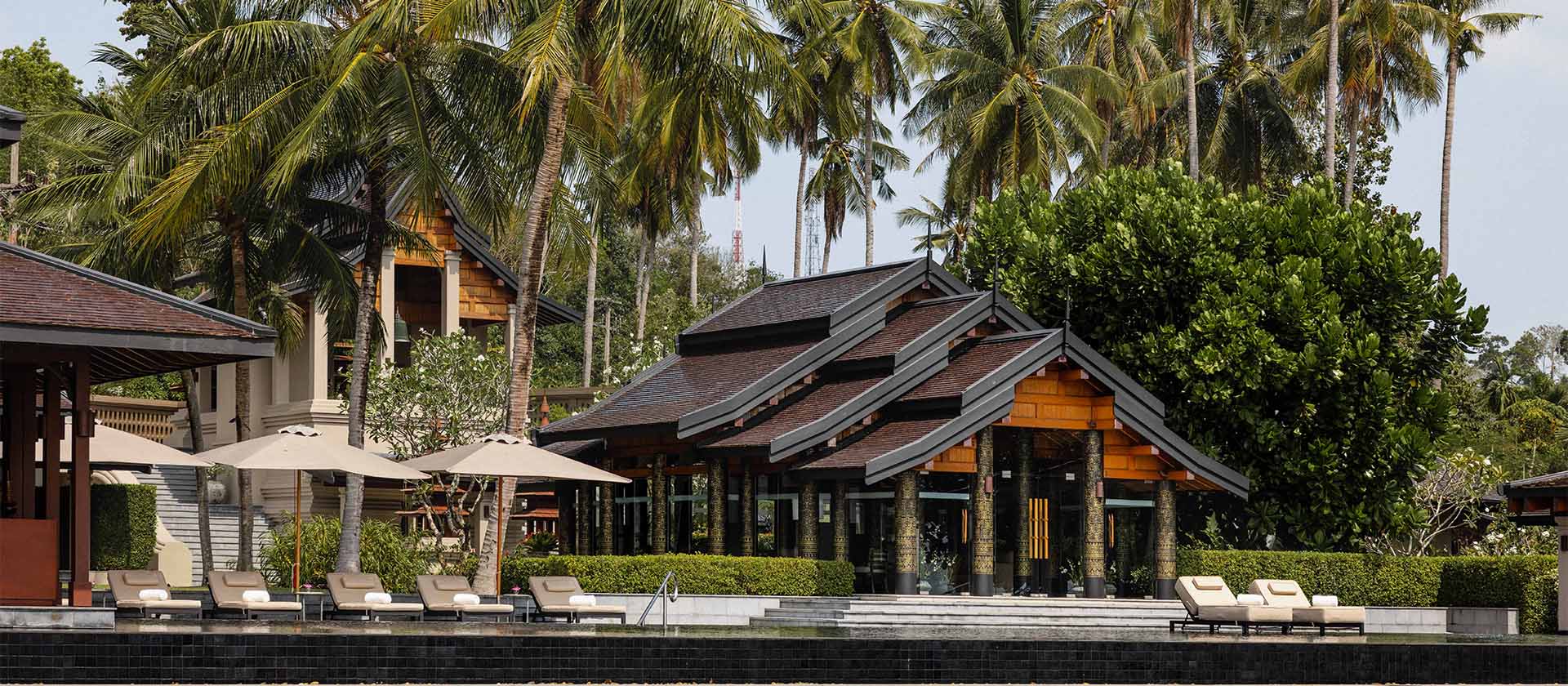 CHRISTMAS & new year celebrations IN THAILAND

Between Phuket and Krabi, on the silky sands of a paradise island, ÀNI Thailand welcomes guests to the heart of Phang Nga Bay, a UNESCO World Heritage Site of outstanding natural beauty. We accommodate groups of up to 20 for festive celebrations, with all ages catered for. December and January are wonderful months to visit Thailand, promising warm days and unlimited outdoor adventures. Bring a unique spirit to Christmas in this deeply spiritual country, which loves to celebrate the occasion with light, food, festivities and parties, despite it not being an official holiday. New Year's Eve here is equally special, featuring fireworks, beachfront celebrations and delicious dining.
ÀNI's Magic Touch
Once you have booked your stay, our team will be in touch to develop your perfect festive itinerary and personalized menus for Christmas or New Year's Eve. When you arrive, we will create a seamless journey to our resort, with VIP transfers included in rates. We will meet you at Phuket International airport and whisk you straight to ÀNI Thailand. Enjoy a welcome ceremony with drinks and refreshments, meet the team and get settled in. We'll even do your unpacking for you.

Our luxury inclusions cover every possible delight, from full-board dining and 10 daily spa treatments to watersports, local adventures, celebrations and more.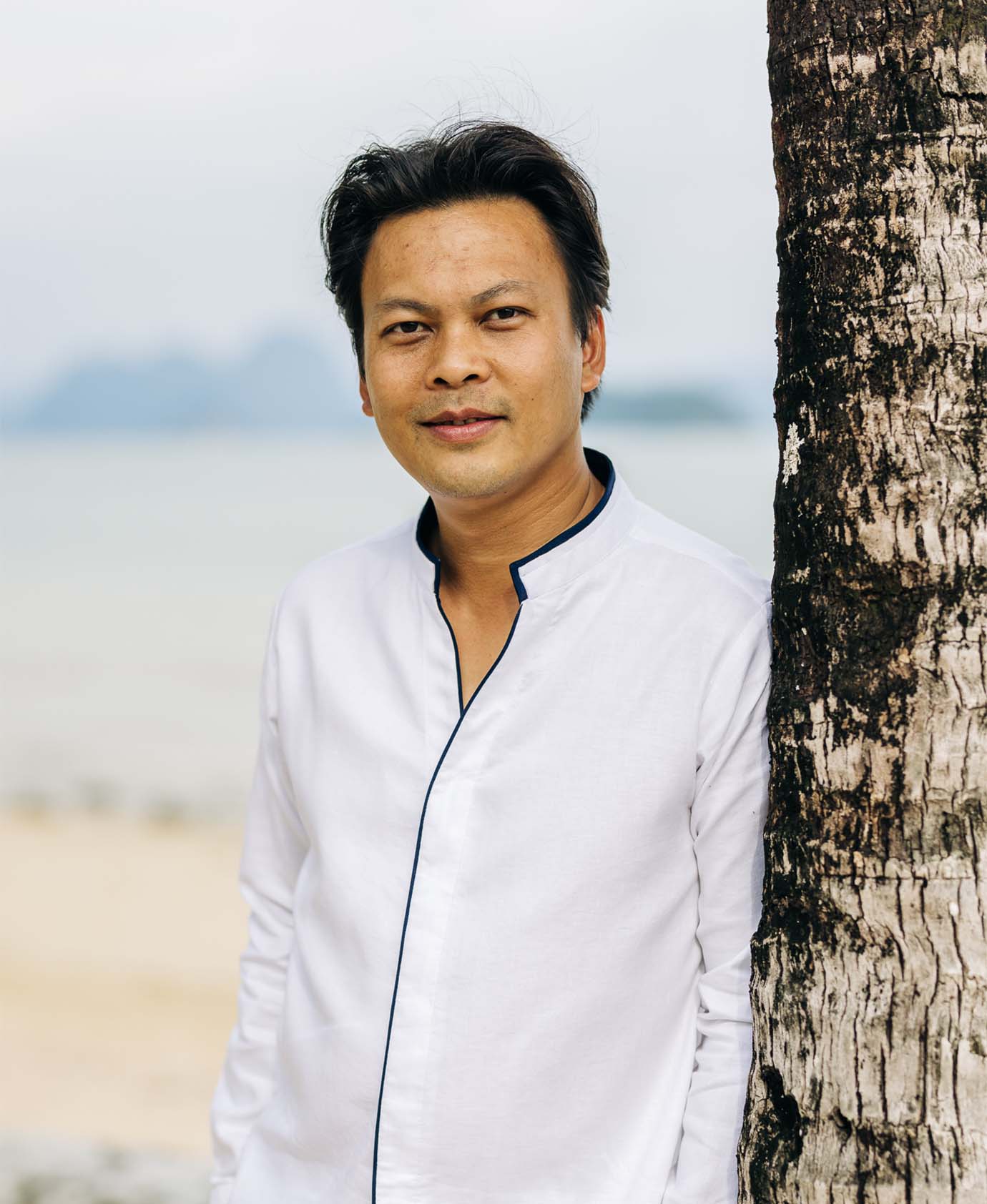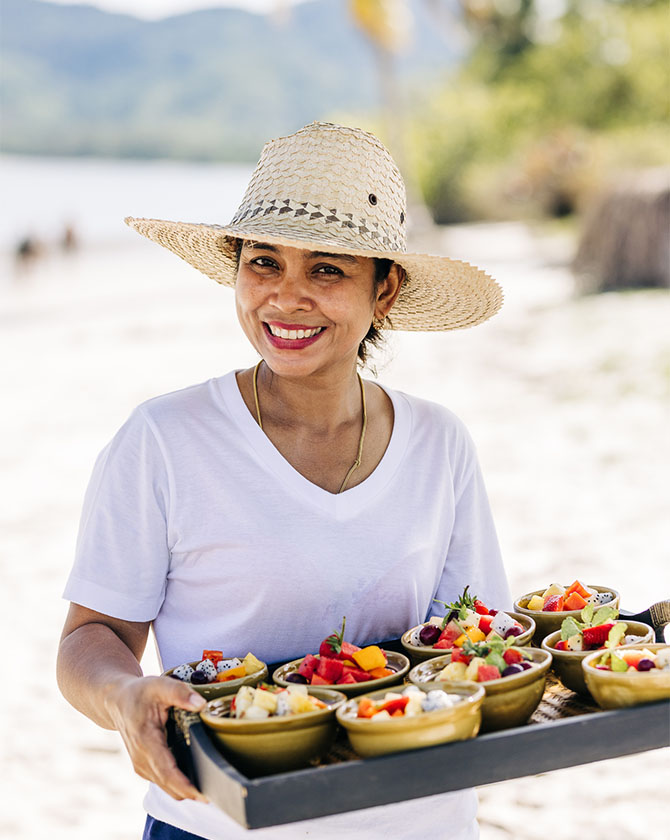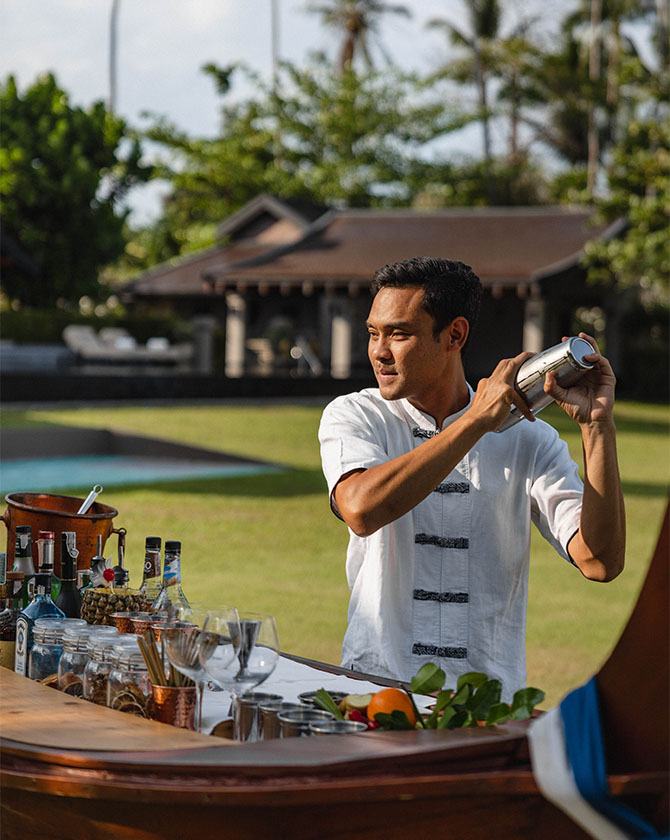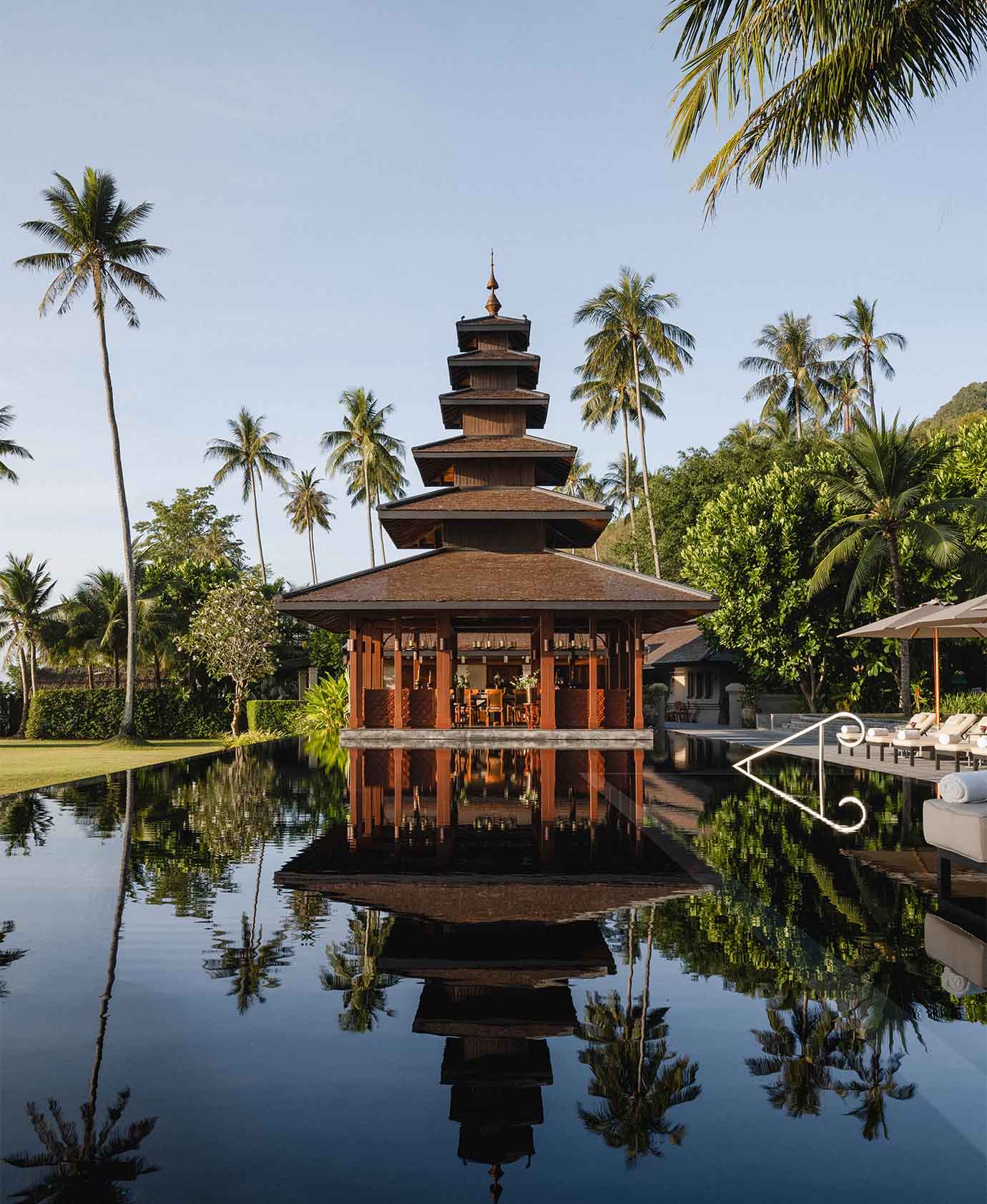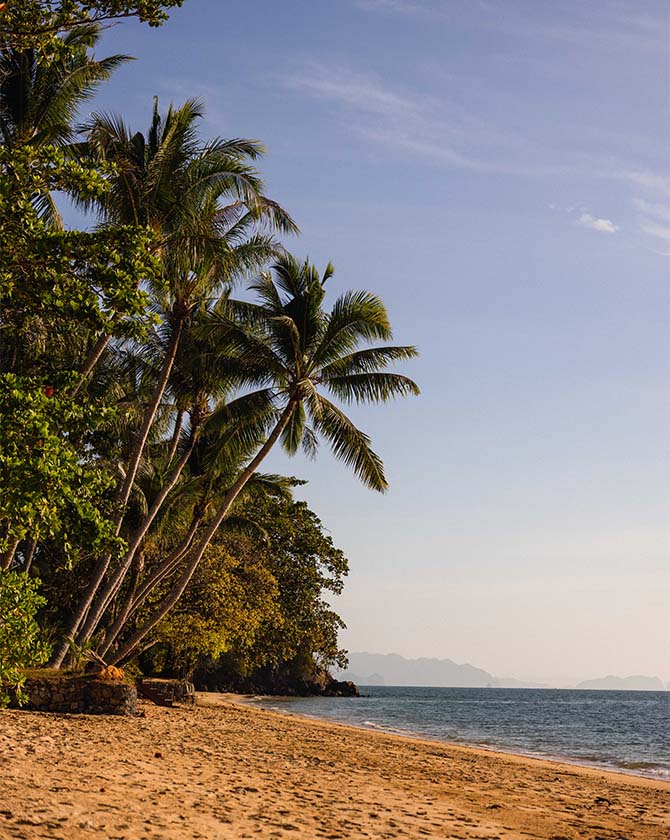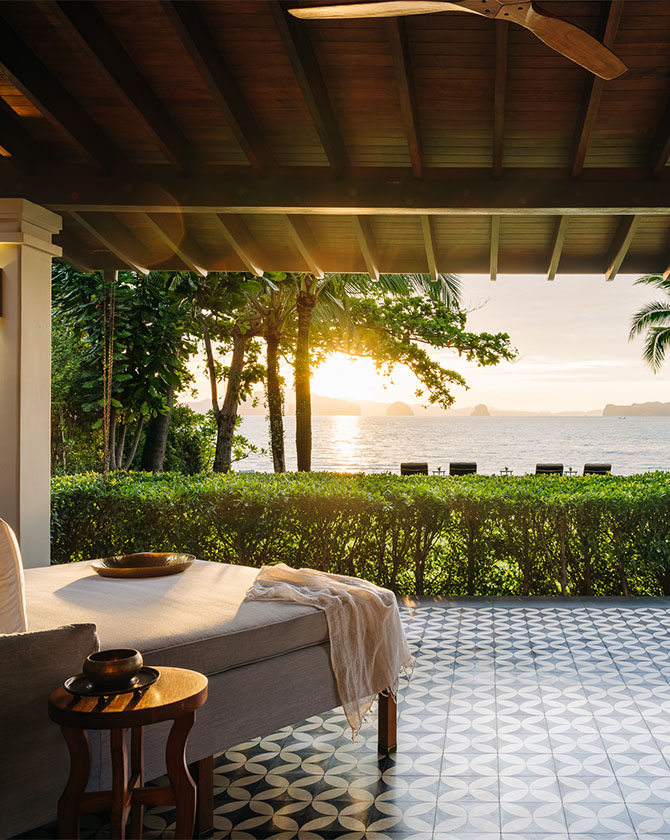 ÀNI Living
Akin to a private estate, ÀNI Thailand offers every facility, amenity, and space a group of guests could possibly desire, as well as a dedicated staff of 22.

From the lofty Arrival Pavilion to the glass-walled, air-conditioned Living Sala, every aspect of the resort has been designed to maximize the property's breathtaking views of Phang Nga Bay. Internal spaces feature glass walls or doors and flow seamlessly outward to embrace the landscaped gardens, sparkling pool, and panoramic vistas beyond. The open-sided Dining Sala is complemented by multiple alfresco settings for dining and relaxation, including a sunken lounge deck and a rooftop meditation area. There is also a double spa treatment room with a jacuzzi, and a fully equipped gym. The games area, children's pool and waterslide, and in-pool chess and backgammon provide hours of entertainment.

Designed with accessibility in mind, our resort has a minimum of steps and rocky paths, suiting guests with wheelchairs or limited mobility.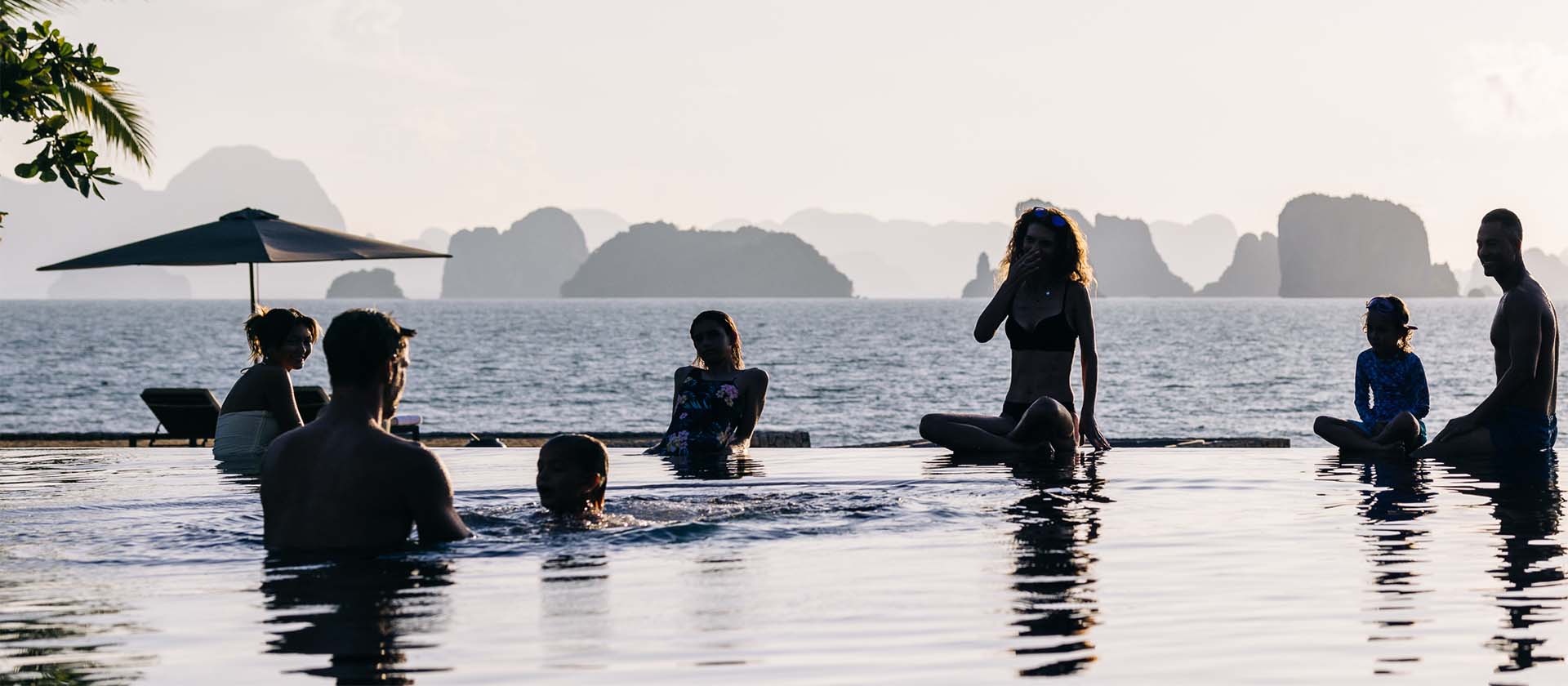 Let's Celebrate
Spend Christmas at ÀNI Thailand, uncovering the unique magic of the Land of Smiles. We will craft the perfect festive itinerary, encompassing unforgettable celebrations, on- and off-resort activities for all ages, meaningful adults-only time, cultural excursions, watersports and destination dining.

Days can be spent relaxing by our infinity pool with butler service or whooshing down the water slide, enjoying spa treatments, or venturing onto our direct-access beach for paddle boarding and canoeing. New skills can be found, learning Batik painting with local ladies or cooking delicious Thai treats with our Executive Chef. Beyond the resort, guests can explore local rubber plantations and the tiny village of Koh Yao Noi, or go adventuring across our island with side-car motorbikes and enjoy a day trip to Batang Island.

On Christmas Eve, we can take you to Phuket Old Town for last-minute Christmas shopping. Back at ÀNI Thailand, you could learn to make jasmine garlands – a symbolic gift, often given to special guests as a sign of respect – before toasting the sunset with cocktails and a timely visit from Santa Claus. We will prepare a special Christmas Eve dinner with wine pairings at the Living Sala.

On Christmas Day, highlights could include a special bike ride around the island, Christmas brunch with live acoustic music and a full day of celebrations, encompassing beach time, spa treatments, shuffleboard games or simply relaxing by the pool. As the day draws to a close, we invite you to gather for a sunset cruise with champagne, followed by a private fire-juggling show and an alfresco Italian dinner.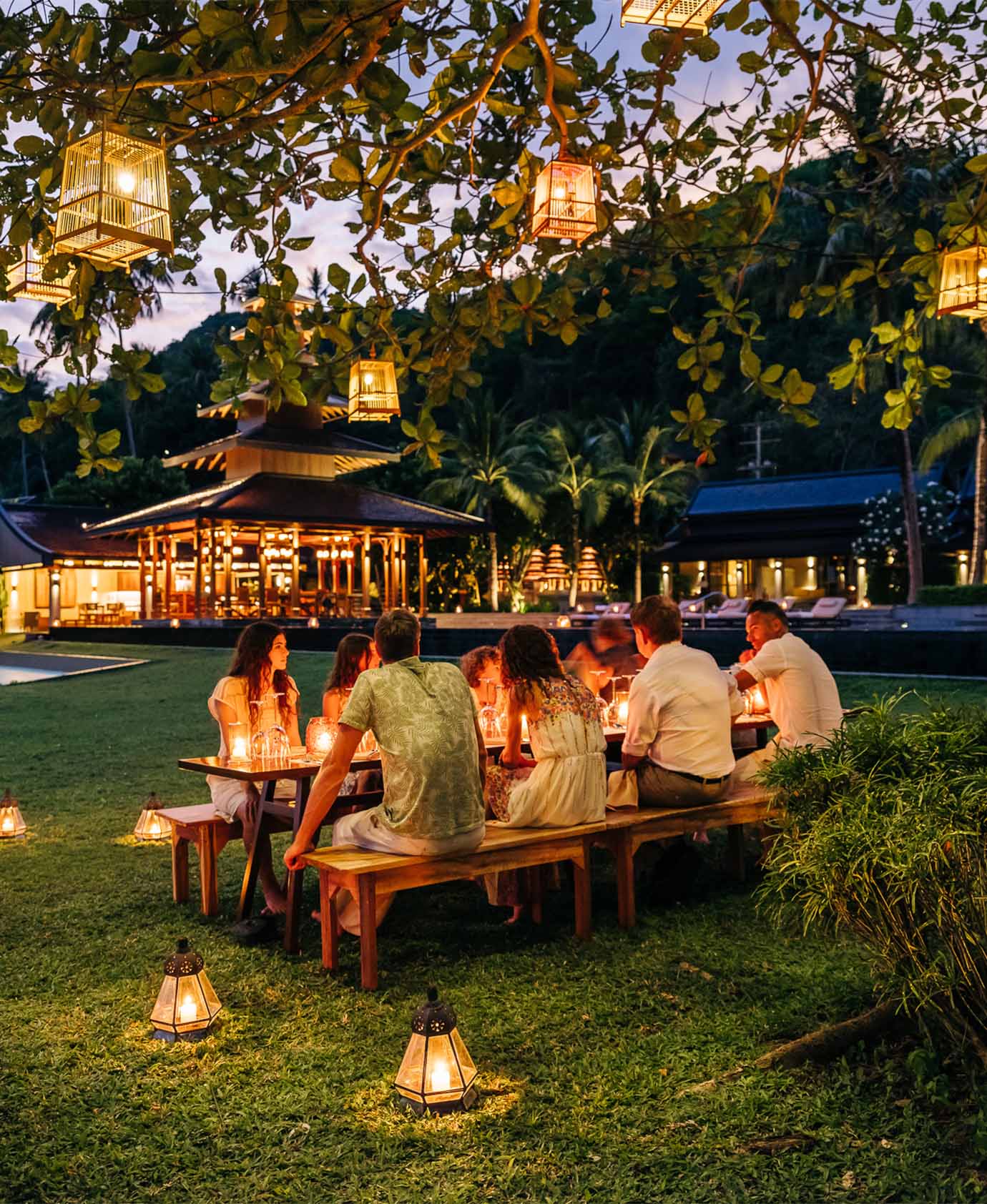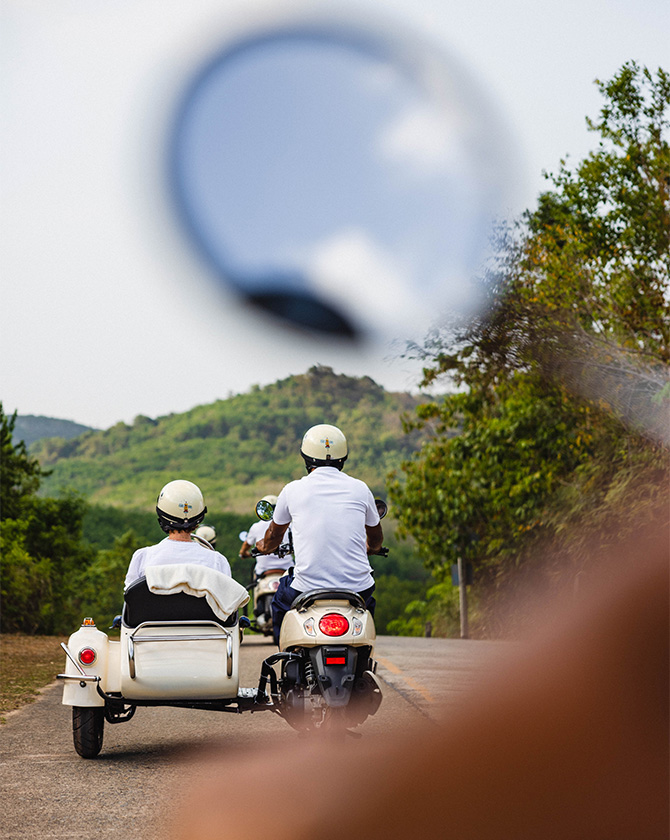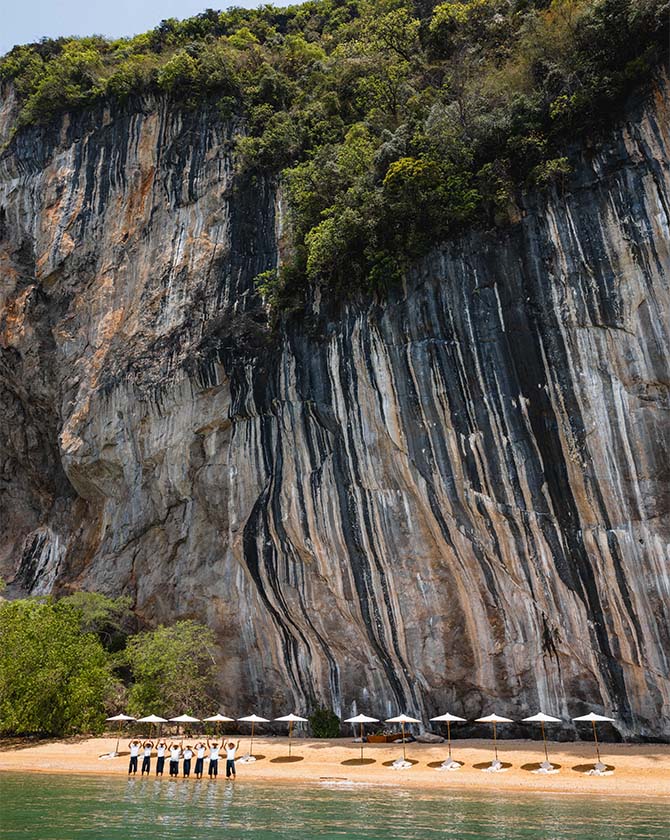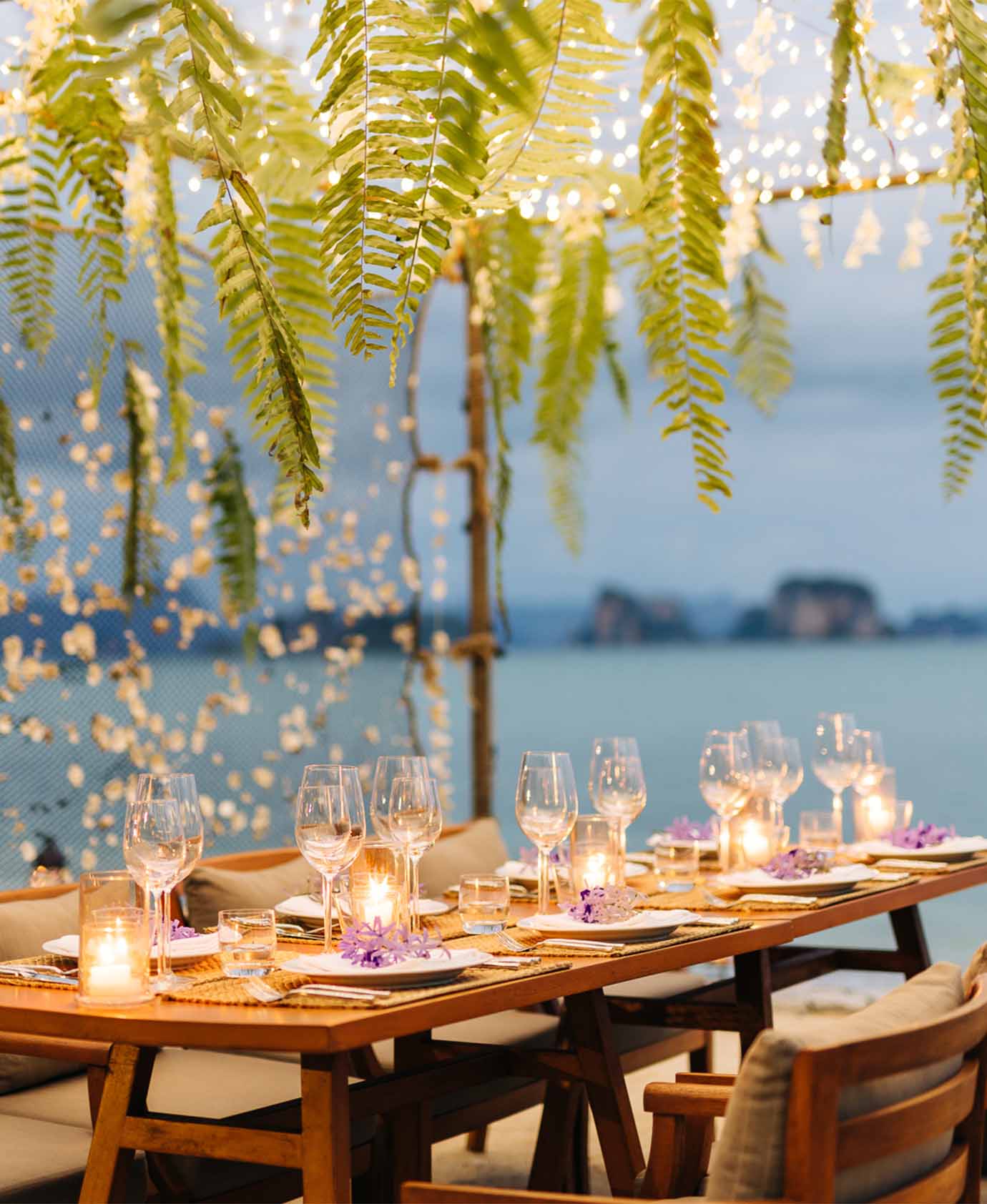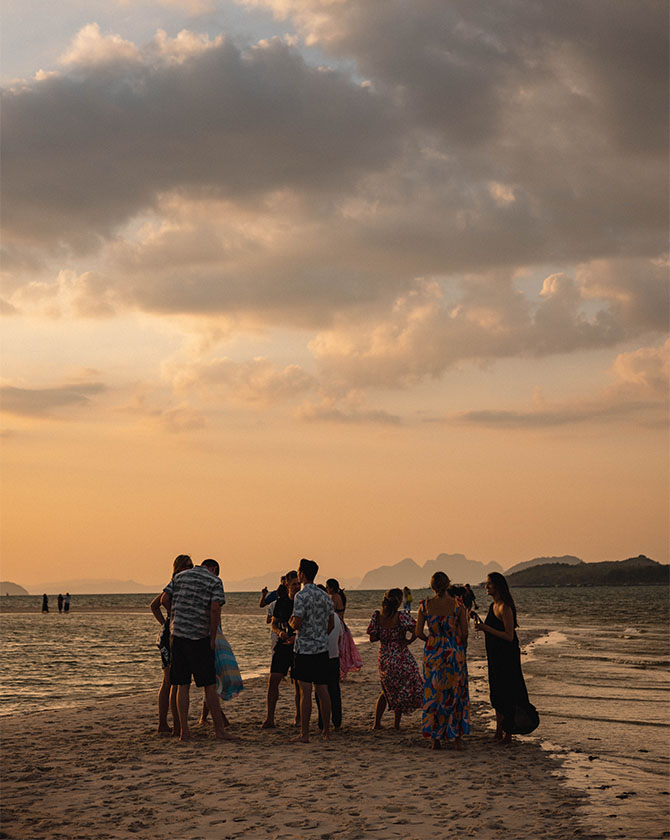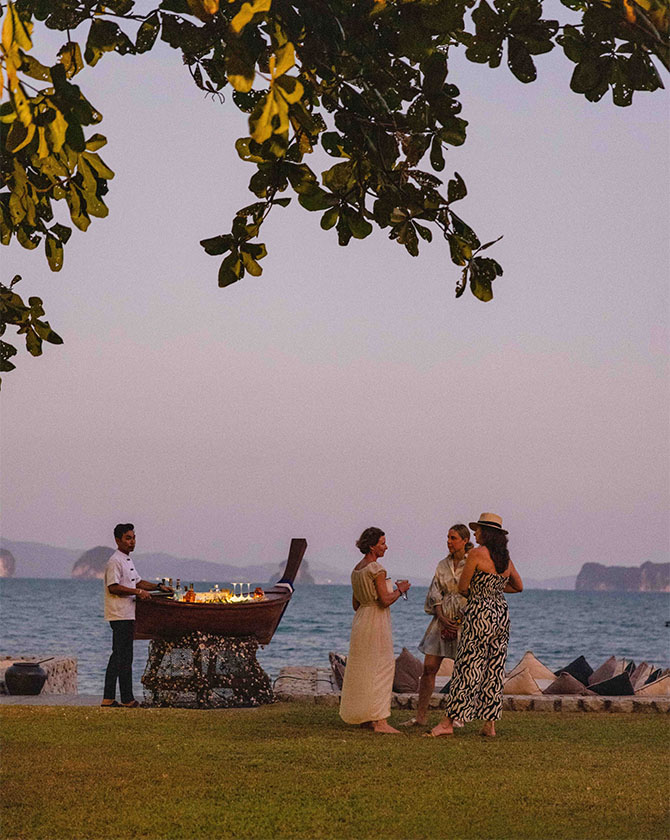 Welcoming 2024
Perhaps you're dreaming of New Year's Eve celebrations with a Thai twist? Pre-New Year activities could see you relaxing under a star-lit sky watching Movies by Moonlight. Have you ever watched a movie, close to where it was filmed? The Bond classic The Man with the Golden Gun was filmed in Phang Nga; the setting for Danny Boyle's iconic film The Beach is a mere hour's journey away by speedboat. You will also have the opportunity to visit the ÀNI Art Academies on the island. Meet our Dean, Dan Christian, and his students. View their work and be inspired by their stories, perhaps commissioning a piece of art to take home with you.
For a fresh start, begin 31 December with morning yoga, connecting to your body and breath, followed by a sound-healing session to remove emotional tension. After a delicious breakfast, spend the day at your leisure, making the most of our pool and the pristine beach. We would also suggest a boat trip to Koh Pak Ka Island for snorkeling, swimming and relaxing.

At sunset, kick off the celebrations with cocktails at the Bar Sala and a shuffleboard competition, followed by a New Year's Eve Gala Dinner, where guests will be invited to wear a floral crown whilst listening to a live band. As 2024 arrives, guests will celebrate with a rainbow-coloured fireworks display.

The next morning, a New Year's Day brunch will be served with live acoustic music. Later in the day, you may wish to make your New Year resolutions during a sunset cruise in a traditional longboat to a mystery destination, where a New Year's picnic with champagne will be served. Guests will return to a traditional Hanuman dance show and a memorable barbeque overlooking the beach by our property.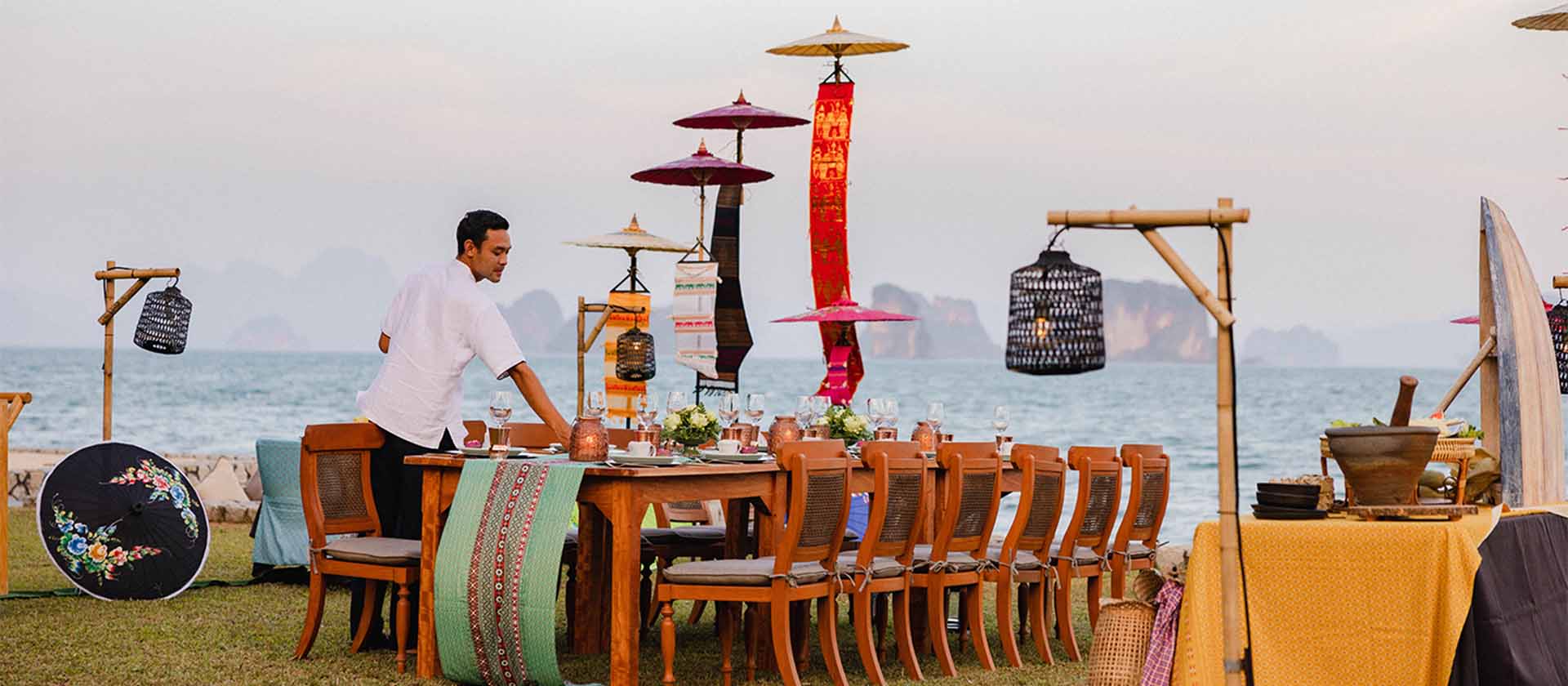 Additional Experiences
Our in-house Concierge team can also plan extra activities for you, highlighting the additional costs. Suggested discoveries include wandering the sidewalks of Phuket's atmospheric Old Town with a local guide, discovering its best-kept secrets. Known for its brightly painted, century-old Sino-Portuguese townhouses, Phuket's other highlights include the Thai Hua Museum, the vibrant Jui Tui Shrine, Thalang Road with its artisanal ice-cream and batik fabric stores, and a visit to Jim Thompson. We would also suggest lunch at the Blue Elephant restaurant.

For those seeking more of an adventure, explore beautiful Phang Nga Bay on a four-hour excursion. Set sail for Ao Phang National Park and learn about the bay's limestone caves and secret lagoons, then see them yourself with a professional guide in a custom-crafted canoe. We can also organize daily boat trips on a yacht of your choice, sailing from one island to the next.

For guests interested in Muay Thai boxing, aka 'the art of eight limbs', we can arrange tickets (and return transfers) to a professional match at Phuket's Patong Boxing stadium.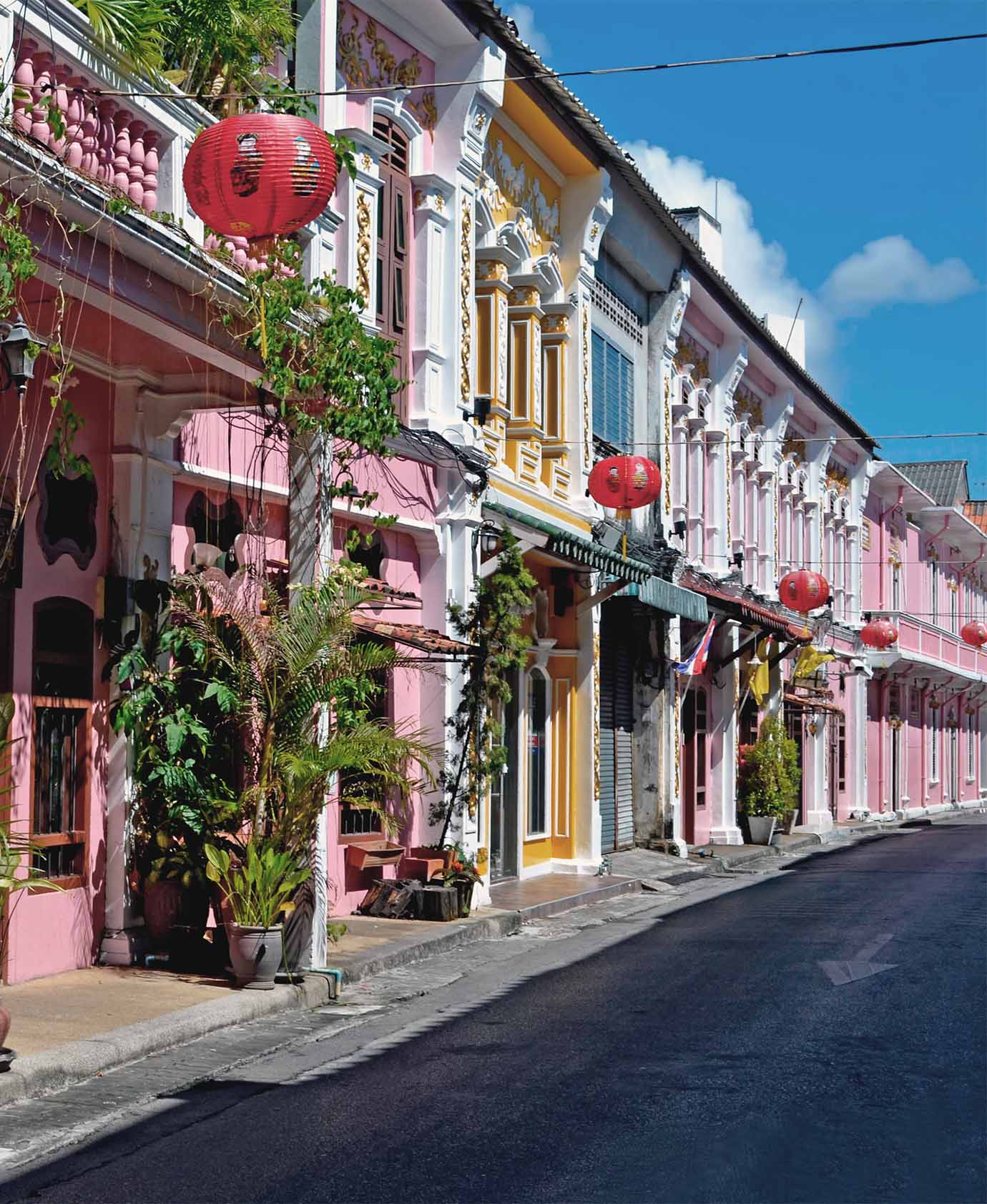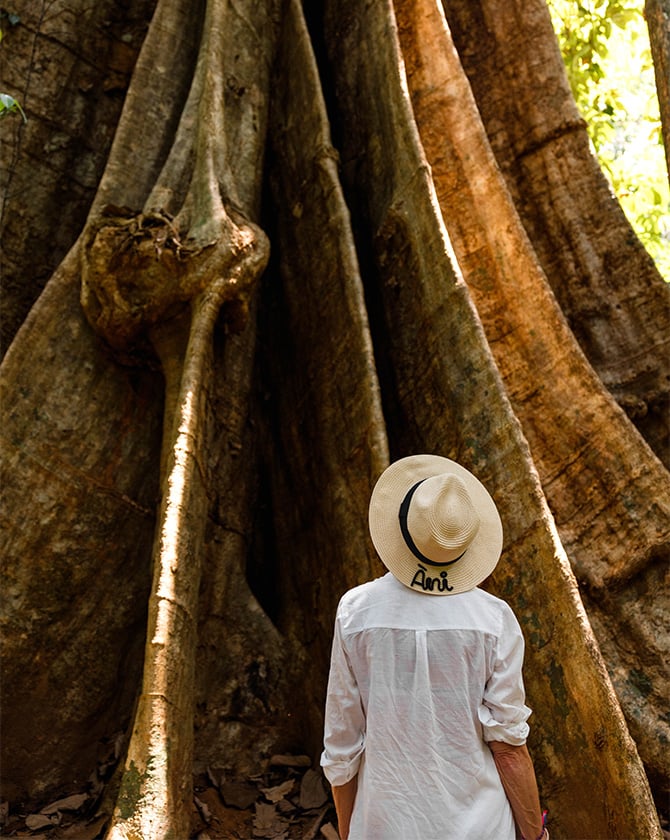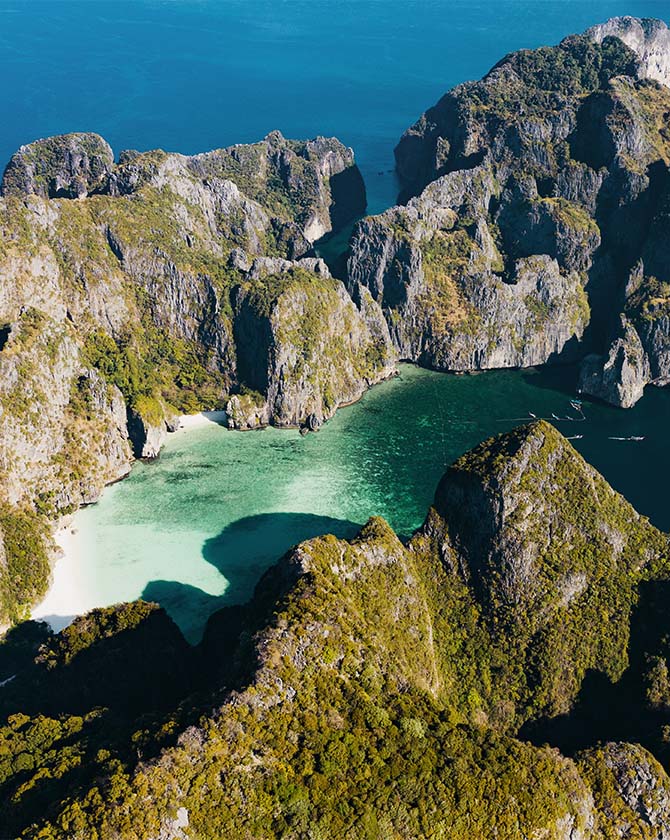 Festive stays start from a minimum of seven nights with a full resort buyout. To inspire your dream holiday at ÀNI Thailand, we have created two sample itineraries for Christmas and New Year. Should you wish to receive a copy of our brochures or discuss a future booking, please don't hesitate to contact our team.