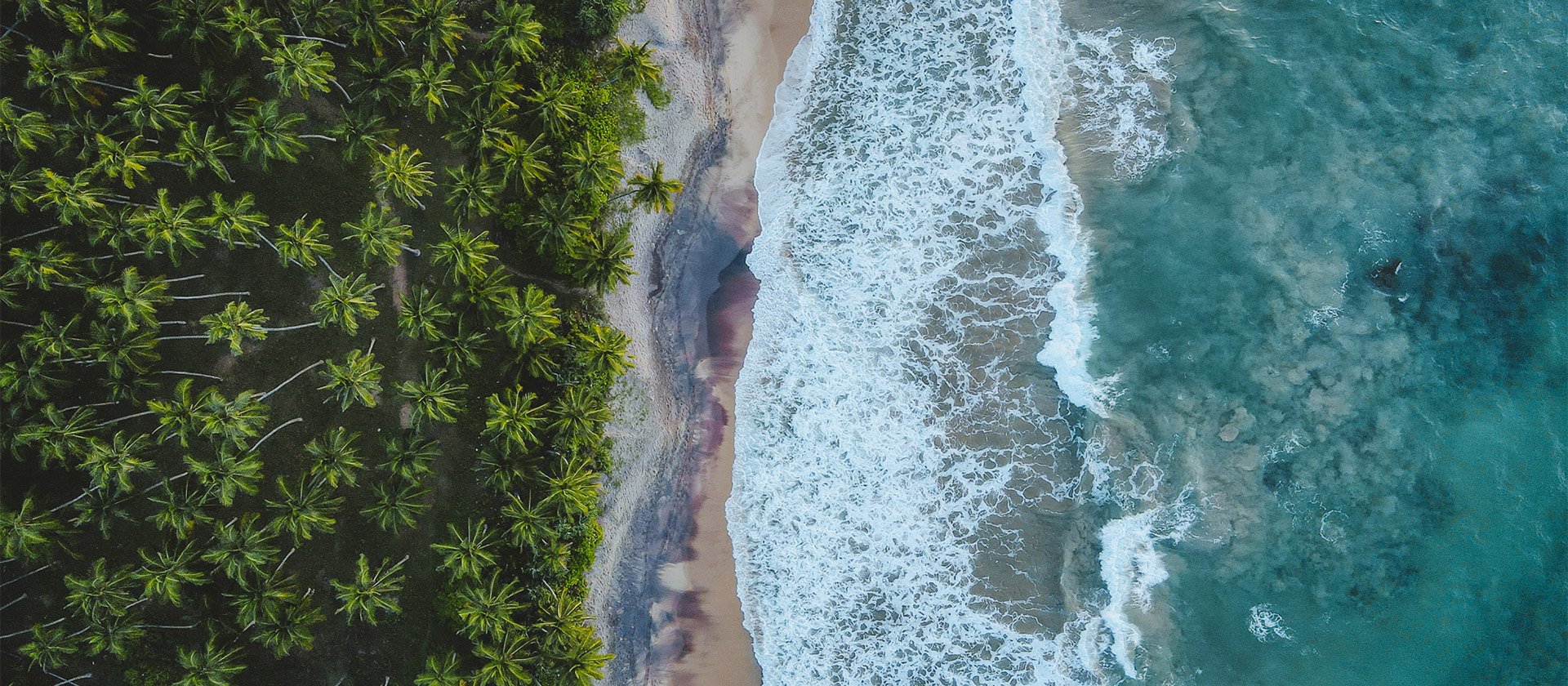 POWER OF THE OCEAN
'My soul is full of longing for the secret of the sea, and the heart of the great ocean sends a thrilling pulse through me.' Henry Wadsworth Longfellow
Humans have always sought the ocean. It sustains us, renews us, humbles us and inspires us, inviting voyages of discovery, murmuring the promise of lands beyond the waves. Many of us feel better beside the ocean: more grounded, more connected to ourselves and each other. Honoring this ancient pull of the water, each of our exclusive-use ÀNI resorts is deliberately located beside the ocean, harnessing the natural magic of the waves, the healing power of nature and the wild beauty of our settings. Thanks to ÀNI's beachfront locations, guests can expect to spend their days enjoying ocean adventures, whether slow-paced or adrenaline-packed.

Our all-inclusive rates cover non-motorized watersports and use of our equipment, from snorkels and flippers to crystal kayaks and paddle boards. During your stay, we will treat you to one complimentary sunset cruise, with delicious canapés and free-flowing drinks included in Anguilla, the Dominican Republic and Thailand. For an extra cost, we can also arrange a fleet of exciting experiences close to each resort: scuba diving, whale watching, surfing lessons, deep-sea fishing, bioluminescent kayaking and more. Discover the best aquatic activities in store at our luxury resorts in Thailand, Anguilla, the Dominican Republic and Sri Lanka. Dive in.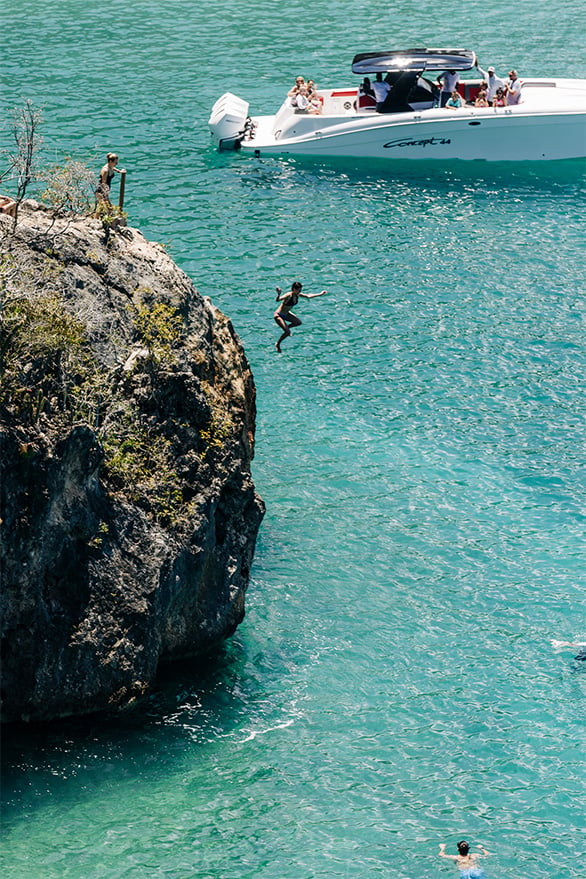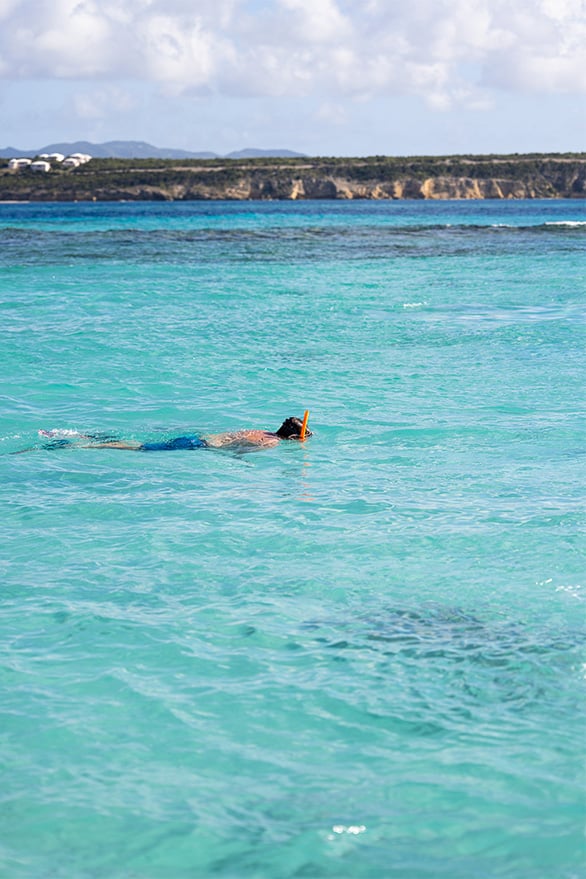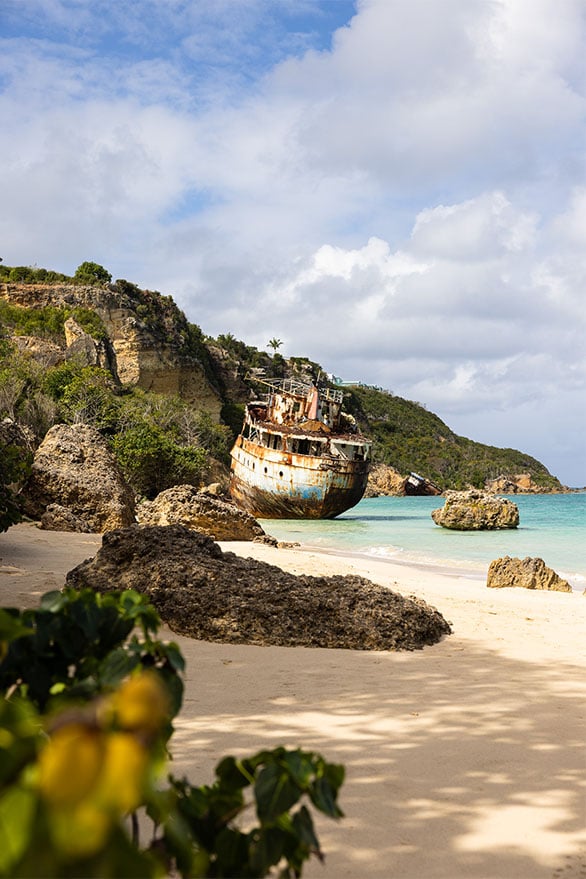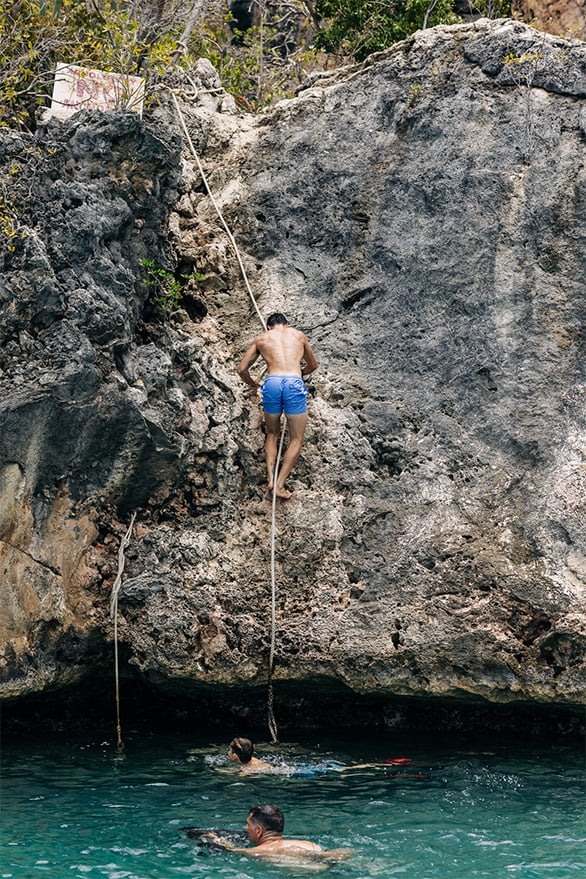 WRECK DIVING & CLIFF JUMPING
IN ANGUILLA
"Discover the hidden treasures beneath the turquoise waters of Anguilla through the thrilling adventure of wreck diving. Dive into a world where history meets marine life, exploring the
fascinating remains of sunken vessels. This ocean-based activity is truly something special, as
it allows you to witness the captivating transformation of man-made structures into coral reefs.
The wrecks provide a haven for a diverse array of marine species, creating a unique and
breathtaking ecosystem. As you swim amongst the wrecks, you'll be mesmerized by itintricate
details and the sense of wonder that surrounds you. Wreck diving in Anguilla is an extraordinary experience that combines the thrill of exploration with the beauty of marine life, making it a
must-do activity for adventure-seekers and nature-enthusiasts alike."
Denny, Activities Coordinator, ÀNI Anguilla
Additional experiences
Set on a cliff top with panoramic views of Little Bay, ÀNI Anguilla is ideally placed for exploring this Caribbean island and its tropical waters. You'll be spoiled for choice when it comes to dive sites. Anguilla has seven wrecks and 20 reef dives, ranging in depth from 40ft (12m) to 80 ft (24m). Expect consistently warm waters all year round; no need for a wetsuit here. Recommended sites include El Buen Consejo, a massive Spanish galleon that was sunk during the colonial years. Look out for cannons and cargo still intact on the ship – a unique experience. Alternatively, the double reef system is a great place to find diverse coral species, accompanied by gem-colored Caribbean marine life. Denny says, "Go to the offshore cays for pristine, untouched wilderness. Diving here is exceptional, so it's best to vary your experiences, checking out a couple of islands."
Thrill-seekers will love cliff jumping in Little Bay. Guests can also rent water scooters to discover our snorkeling sites, or learn to kiteboard with expert local instructors. Spend a day beach-hopping or relaxing aboard your own private yacht exploring Dog, Scrub, and Sombrero Islands, the Prickly Pear Cays, and multiple other islets that beckon offshore. Take a private surfing lesson on one of Anguilla's world-renowned breaks, go deep-sea fishing or learn the basics of kitesurfing when the breeze picks up. You'll deserve a rest back at the resort after all that…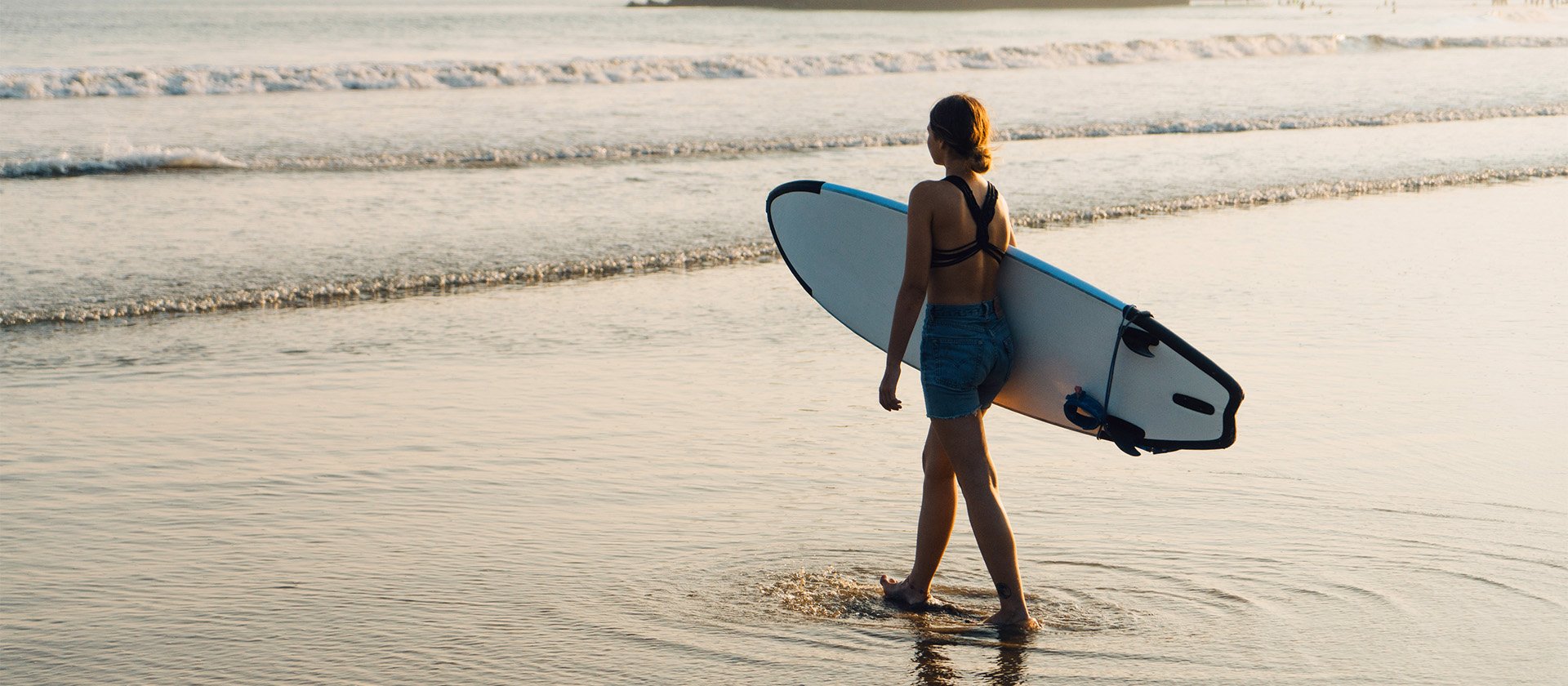 SURFING & WHALE WATCHING
IN SRI LANKA

">"We take beginners to Kadolana Beach for surfing lessons and can arrange advanced sessions for experienced surfers at Hiriketiya Beach, one of the best surfing points in Sri Lanka. Both locations are just 15 minutes away from the resort. The beginners' surf lessons are a kind of motivational activity that helps to build self-confidence. With proper training, guidance and discipline, anyone can surf.
It's a perfect activity to keep kids and young adults away from social media and tech devices, and
to get them active. We have a dedicated photographer to capture their achievements, which
become great holiday memories."
Nilantha, Activities Manager, ÀNI Sri Lanka
ADDITIONAL EXPERIENCES
ÀNI Sri Lanka welcomes you to the island's pristine south coast, offering panoramic views of the Indian Ocean. Guests visiting between November and April can enjoy thrilling whale watching, with the chance to encounter the giants of the deep in their natural habitat. This half-day adventure involves an early start, as you leave the resort at 5.30am to head to Mirissa harbor, just under an hour away. Have breakfast on your private catamaran, served by ÀNI butlers. On your return trip towards land, pause for snorkeling, paddle boarding and swimming close to Taprobane Island. Mirissa is the top spot for whale watching, with a 90 percent chance of seeing these majestic marine mammals.

From December to March, snorkeling and diving activities are available in a choice of locations, including Nilwella, 20 minutes away from ÀNI Sri Lanka (close to Blue Beach Island); Weligama, a 50-minute drive; or Unawatuna or Hikkaduwa, both about 75 minutes away. We can also arrange sailing, kayaking and fishing expeditions close by. As our General Mananger, Dinesh, says, "To complete a beach holiday, travelers should have felt the ocean, sand and corals, and spotted aquatic species as an addition to the great views of the ocean from our resort."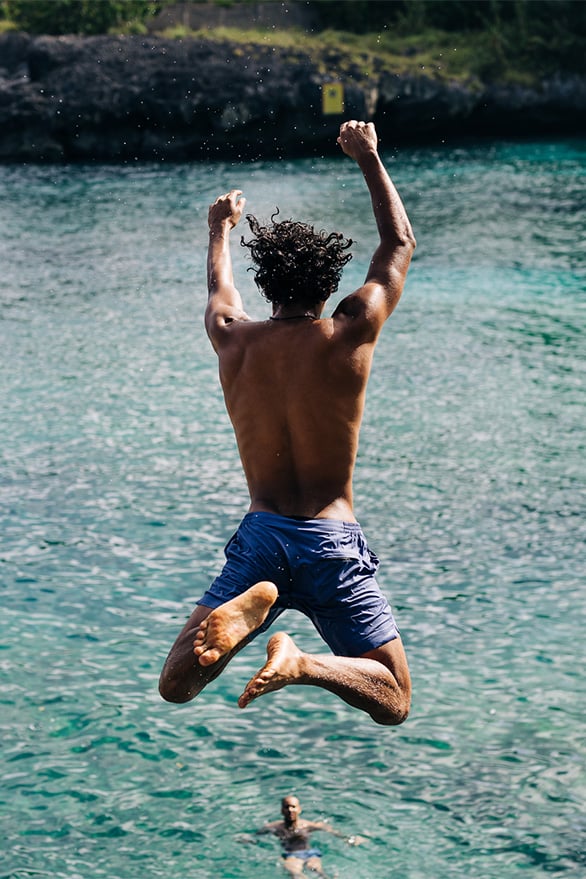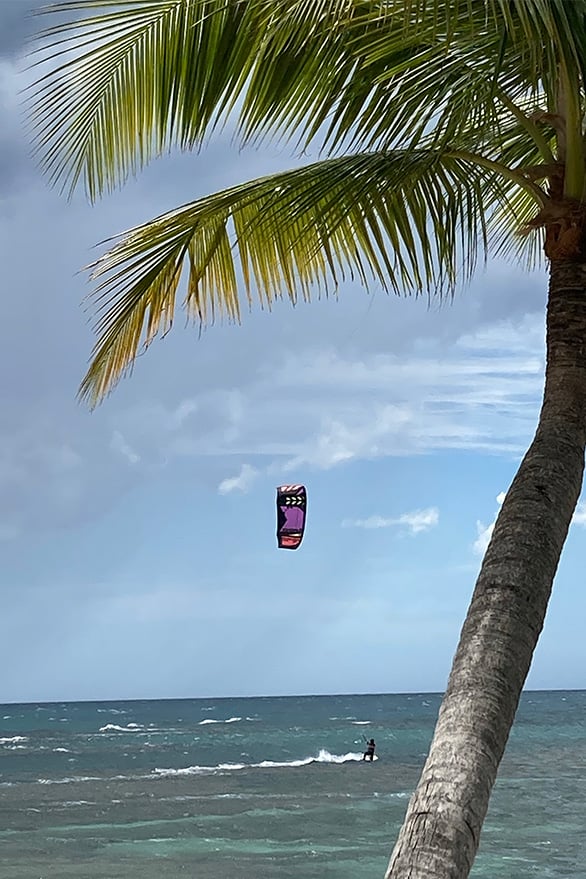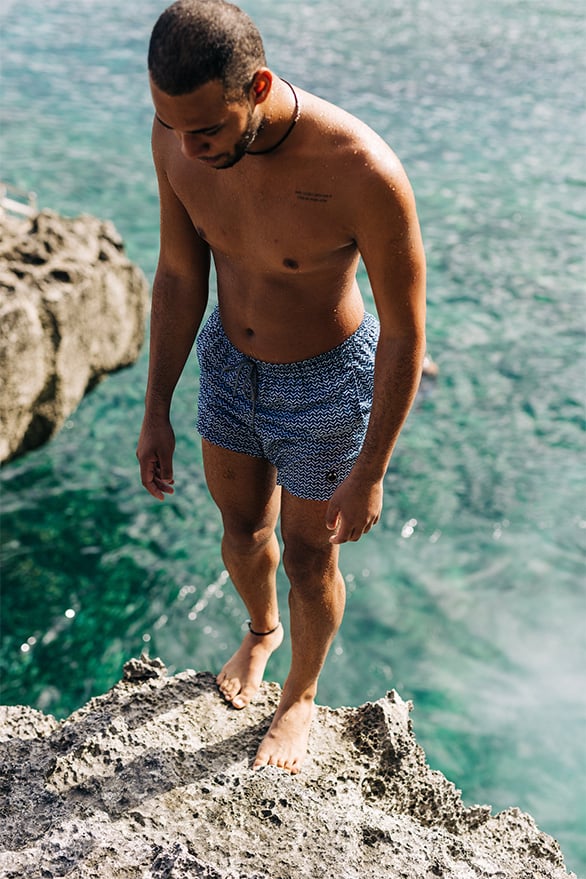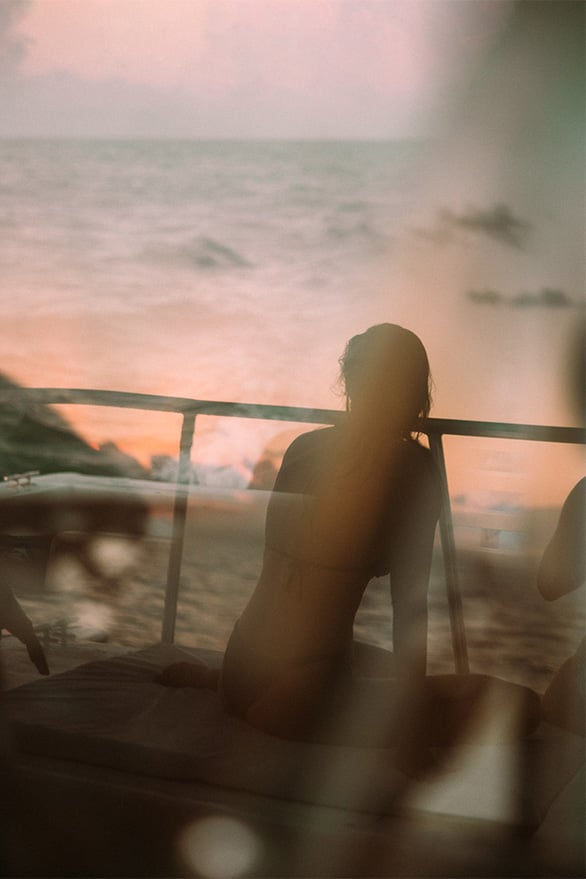 CLIFF JUMPING & KITE SURFING
IN THE DOMINICAN REPUBLIC

">"Cliff jumping is without doubt the favorite activity from our resort, as the different heights available change the adrenaline level from guest to guest. Everyone can enjoy this together, from young ones to elders. Another adventure that our guests enjoy is exploring the ocean in our crystal kayaks, looking through the bottom of the kayaks to spy fish in our crystal-clear waters. For surfing sessions, our guests are taken to Playa Grande beach. They can learn a new sport while staying with us."
Edison, Activities Manager, ÀNI Dominican Republic
ADDITIONAL EXPERIENCES
ÀNI Dominican Republic is perched on its own private peninsula with two natural coves forming tranquil swimming bays on either side: photogenic La Piscina Natural to the east, and El Hoyo with its incredible rock formations and blow holes to the west. Our jewel-like resort is set in the center of the Dominican Republic's north coast, between the magnificent Samaná Peninsula and Cabarete, the birthplace of kitesurfing. We can arrange surfing and kitesurfing lessons on Cabarete Beach, and beach-hopping cruises along the coastline.

An outstanding scuba-diving destination, the north coast of the Dominican Republic offers multiple sites for divers of all abilities. Pristine coral reefs hosting eagle rays, turtles, and tropical fish attract those with an eye for color, while the wrecks offer excitement for more experienced divers. The tropical waters offshore are teeming with marine life, offering superb scuba diving and fishing year-round. Whale-watching cruises offer the chance to spot humpback whales as they migrate along the coast from January to March; if you're very lucky, you might spot them swimming past our resort.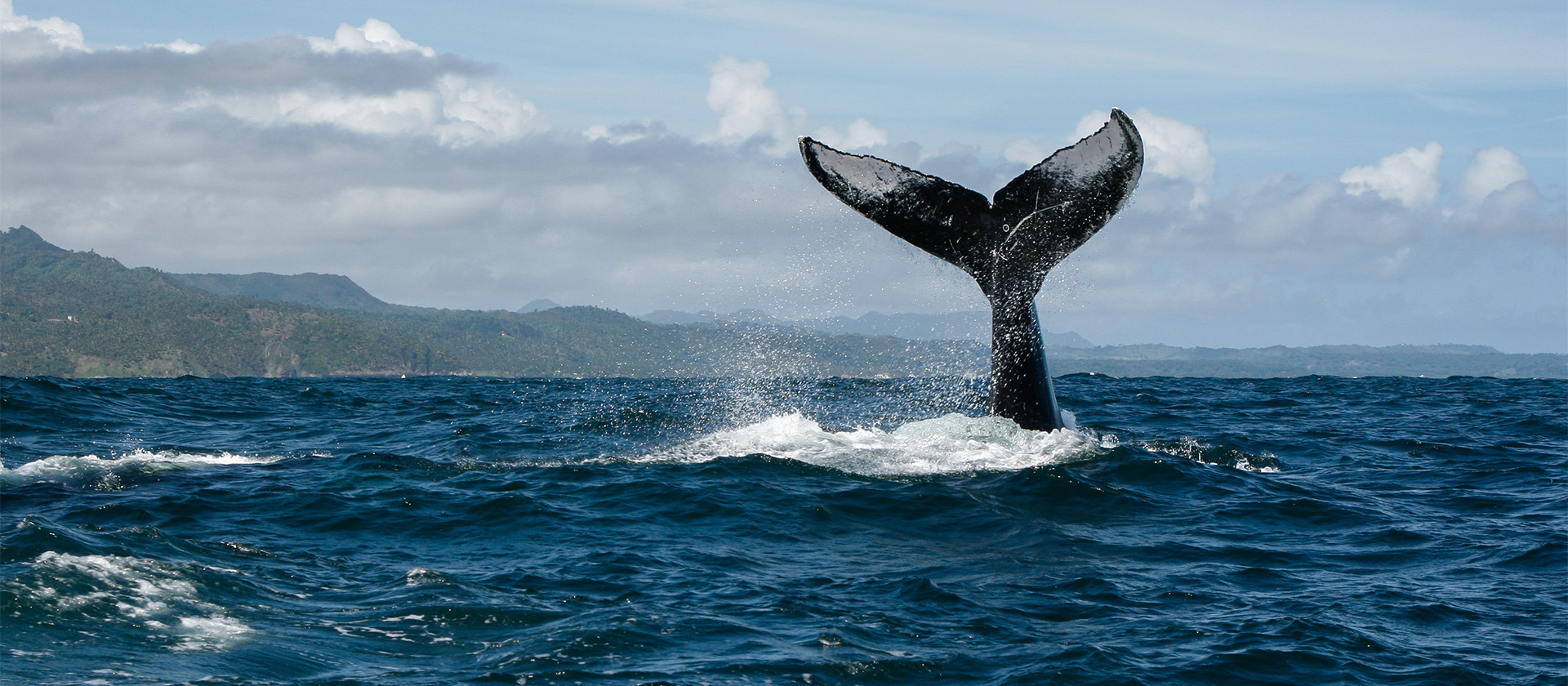 ">"On our night-time squid-fishing trip, you will journey on a specially designed boat made for squid fishing, which has a large green light source to lure in the squids. Once you catch the squid, it's time to taste their sweetness by eating squid sashimi or charcoal-grilled squid. Delicious!"
Andrew, General Manager, ÀNI Thailand
ADDITIONAL EXPERIENCES
Between Phuket and Krabi on the sunrise sands of a paradise island, ÀNI Thailand welcomes guests to the heart of Phang Nga Bay, a UNESCO World Heritage Site of outstanding natural beauty. Experience private Bioluminescence and Sea Canoeing Tours at Phang Nga Bay with our trusted partner. Embark on an illuminating journey through the waters around Phang Nga Bay, witnessing nature's incredible liquid lightshow. Further afield, more bioluminescent rewards are in store at untouched beaches including Ton Sai in Krabi, Koh Phi Phi and Ao Nang.

Meaning 'Small Long Island', Koh Yao Noi is one of 42 emerald isles in Phang Nga Bay known for their deserted beaches, protected mangroves, and the pristine coral reefs that fringe their shores. Spot rare hornbills and sea otters while exploring Ao Phang Nga National Park and come face to face with green turtles, harmless leopard sharks, and myriad tropical fish on private scuba-diving expeditions. Island-hopping and snorkeling cruises by longtail boat reveal wonders above and below the water. We can also arrange private yacht cruises to the Phi Phi Islands and Thalene Bay.