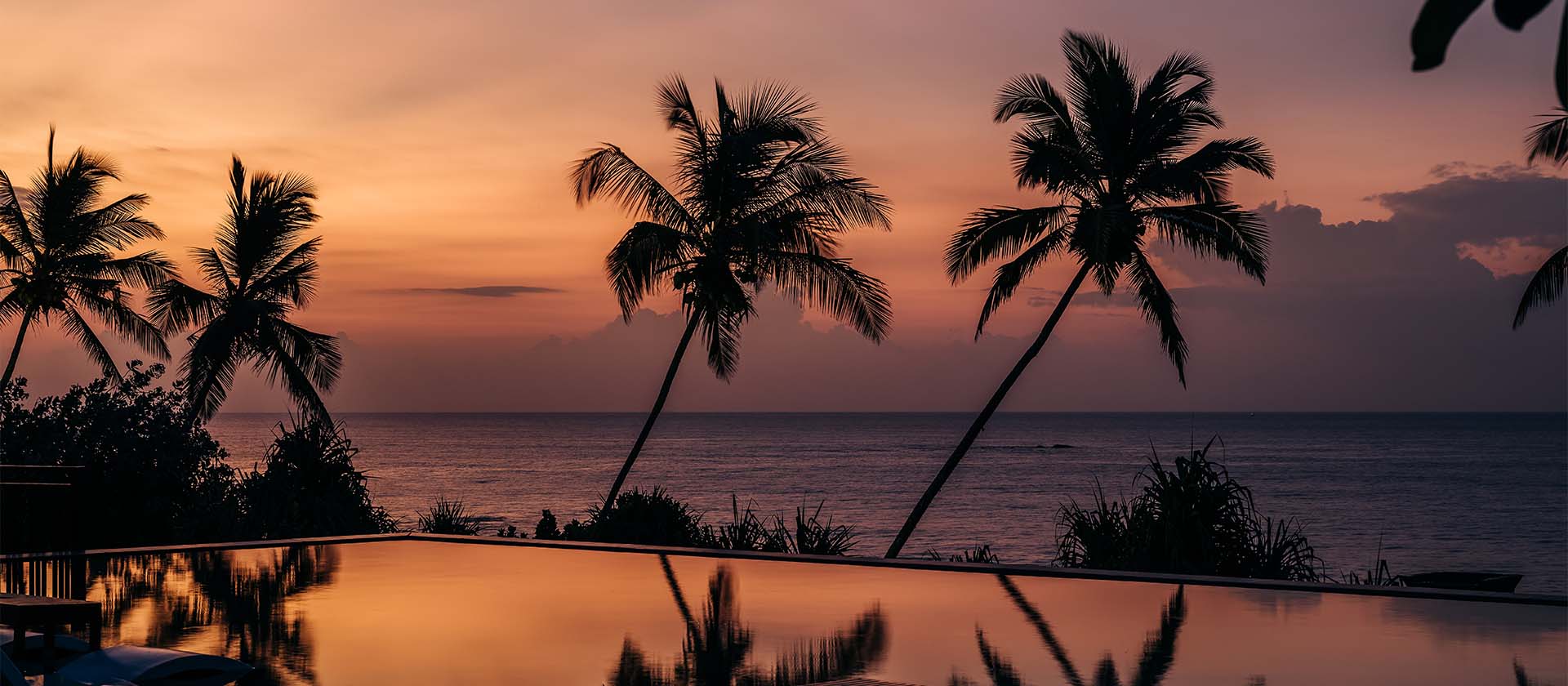 CHRISTMAS & new year CELEBRATIONS IN SRI LANKA
Bring added magic to Christmas and New Year in captivating Sri Lanka. Christmas is one of the island's most celebrated festivals, marked by special feasts, delicious cakes and sweet treats, Christmas markets and more. Paradise beaches and molten-gold sunsets are your backdrop for festivities, the local waves offer rewards for surfers of all levels, and December and January are some of the best months for whale-watching in nearby Mirissa. New Year's Eve is also a hit here, with incredible parties featuring DJs, fire dancers, fireworks, bonfires, floating lanterns, sparklers and more. Let ÀNI Sri Lanka on the sun-kissed south coast be your hub for celebrations. Our resort welcomes up to 30 guests of all ages, with a dedicated team of 30 to take care of your every need.
ÀNI's Magic Touch
Once you have booked your stay, our team will be in touch to develop your perfect festive itinerary and personalized menus for Christmas and New Year's Eve. When you arrive, we will create a seamless journey to our resort, with VIP transfers included in our rates. You'll be met at Colombo's international airport and whisked straight to ÀNI Sri Lanka. Enjoy drinks and refreshments, meet the team and get settled in; we'll even do your unpacking for you.

Our luxury inclusions cover every little detail, from full-board dining and 15 daily spa treatments to watersports, local adventures, special celebrations and more.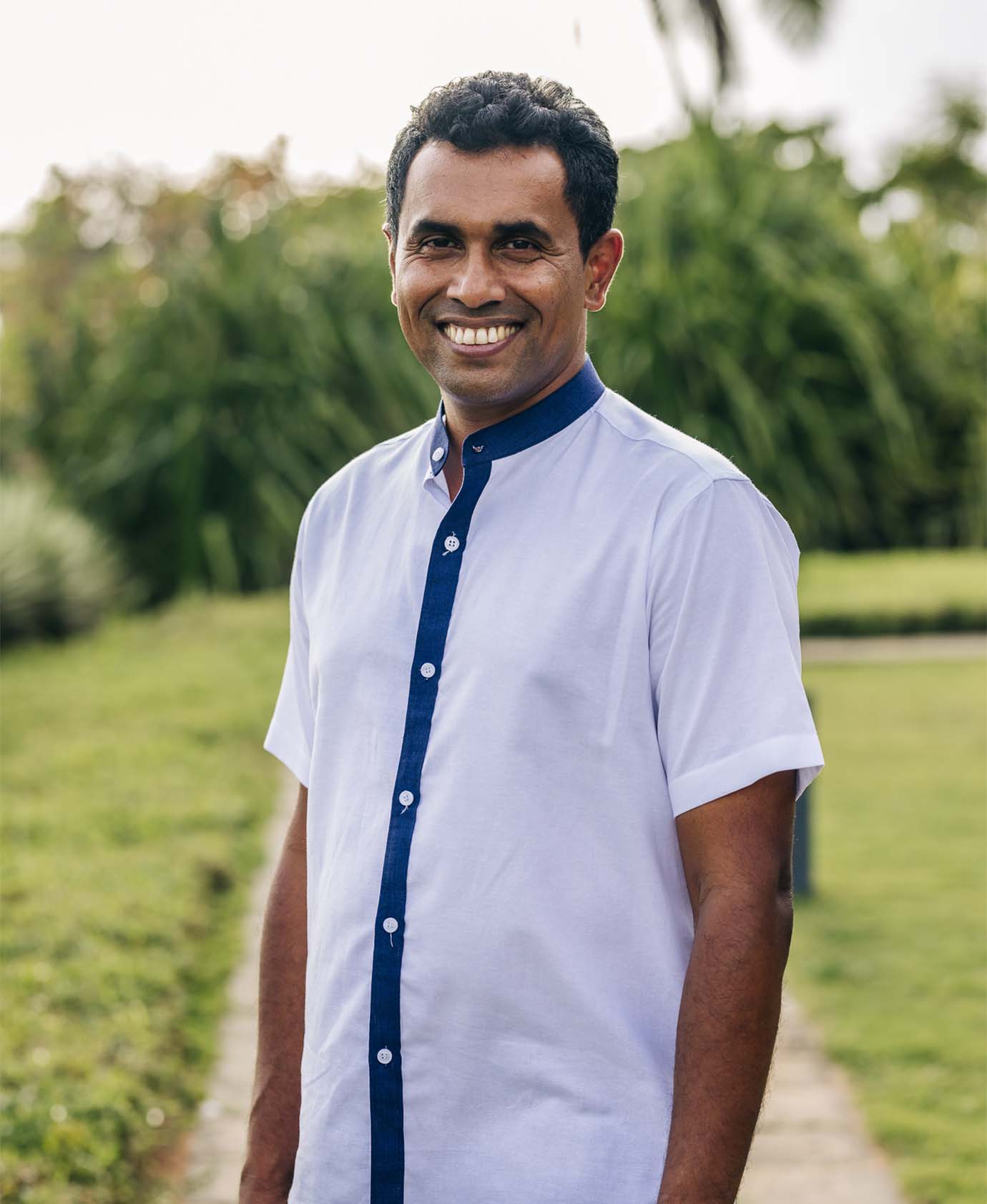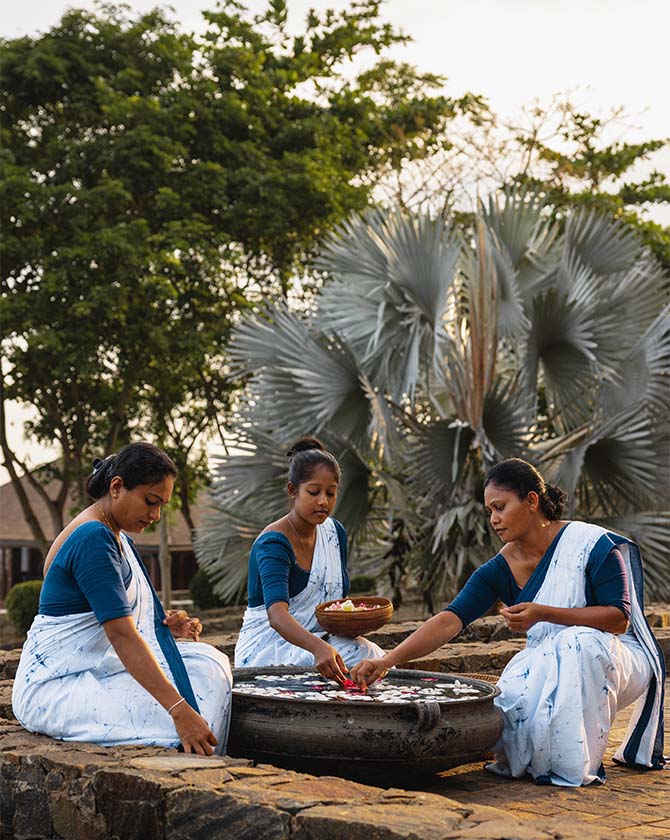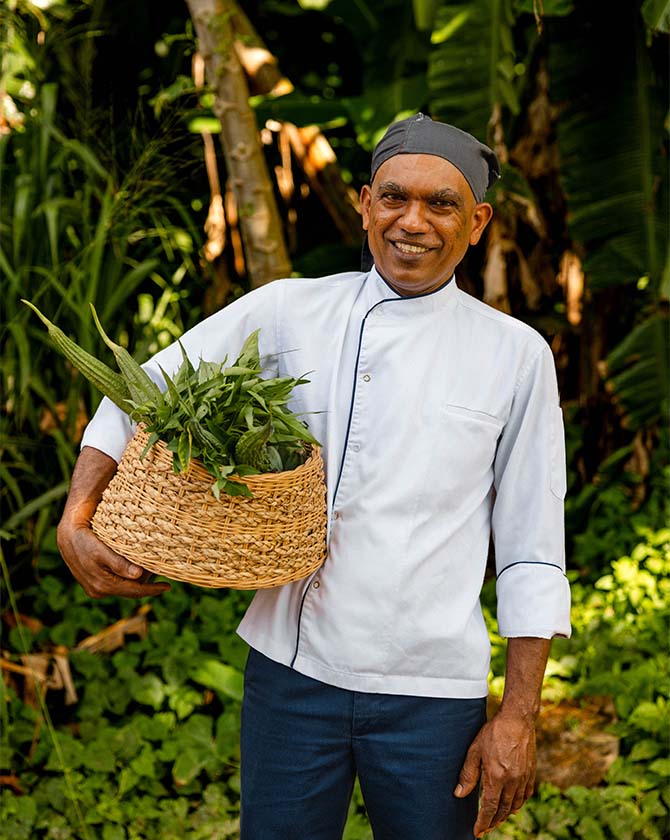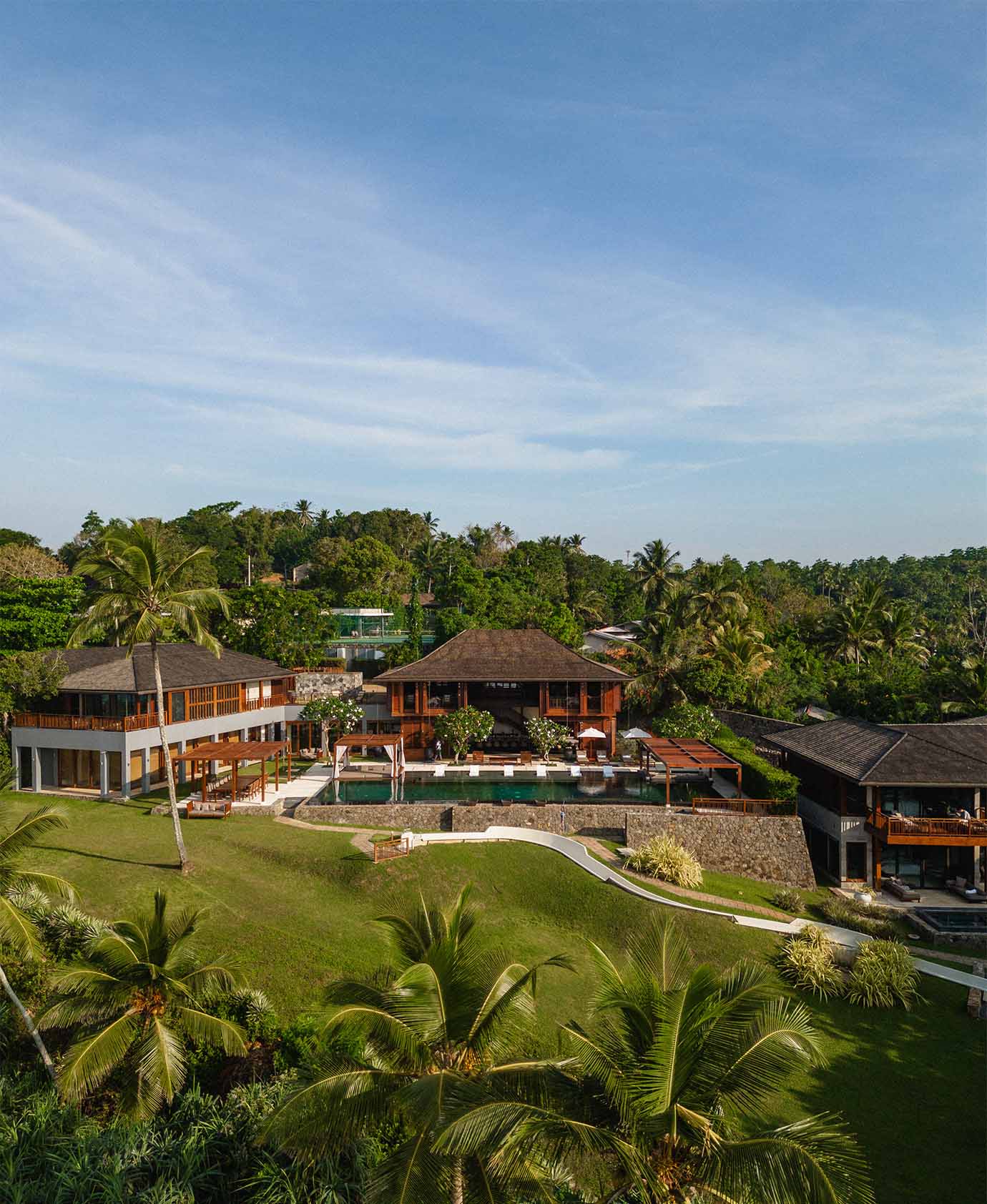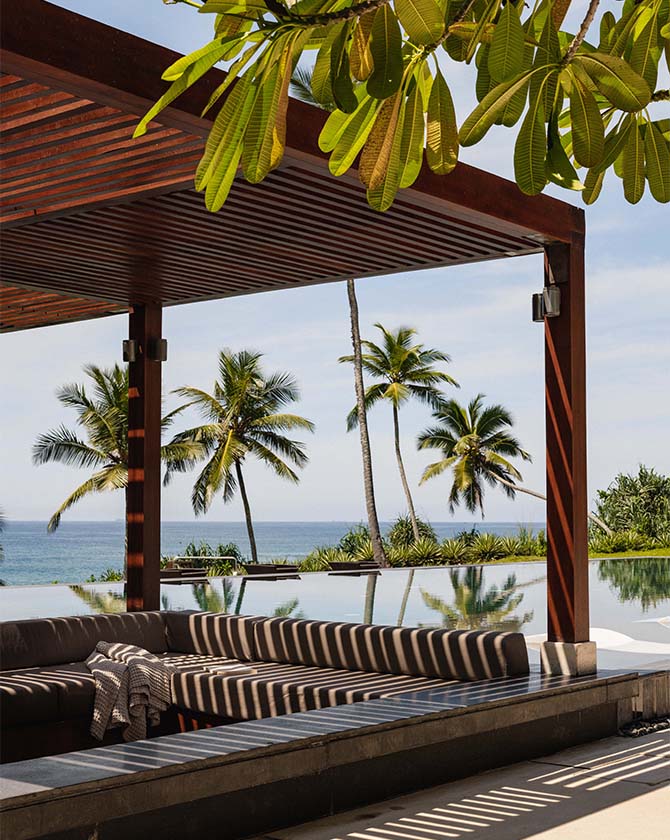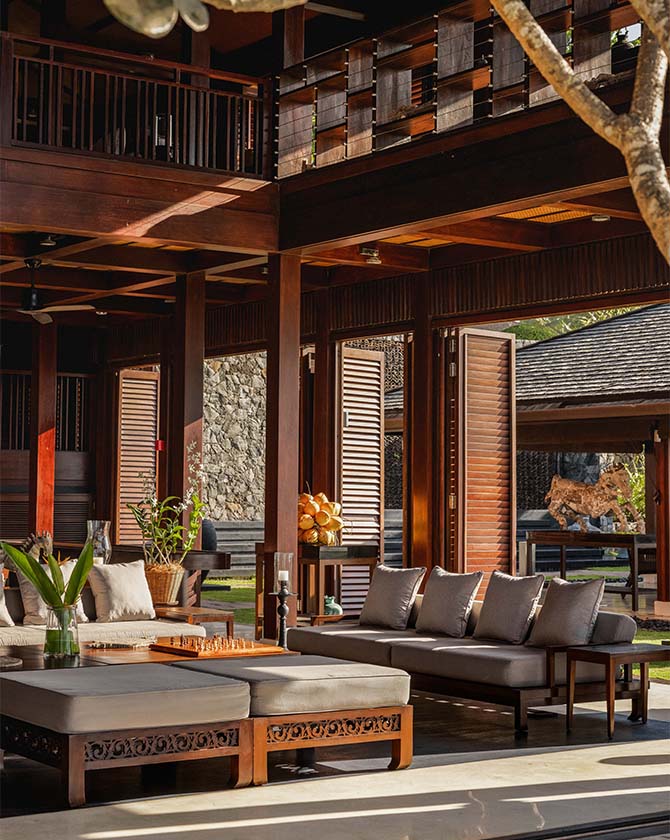 ÀNI Living
Embraced by lush greenery on an idyllic, palm-fringed beach, ÀNI Sri Lanka welcomes guests to the island's pristine south coast and offers panoramic views of the Indian Ocean. Vivid jungle on three sides ensures consummate privacy, while every aspect of the resort's design – from its two infinity swimming pools to its multiple living and dining pavilions – is oriented to maximize ocean views. The property offers direct access to the beach along a sandy pathway that winds through palms and indigenous vegetation.

Inspired by the nature-framing open spaces of Tropical Modernism, two poolside Living Salas – Villa Monara (meaning Peacock) and Villa Divia (meaning Leopard) – feature upstairs and downstairs living and dining areas that include a lounge, wine cellar, bar, library, and an interactive show kitchen. Alfresco dining can be enjoyed on the terrace, in the five-acre (two-hectare) gardens, on the beach, and even in the shallows of the pool.

Designed with accessibility in mind, our resort has a minimum of steps, a lift in Villa Monara and a pool lift available on request, suiting guests with wheelchairs or limited mobility.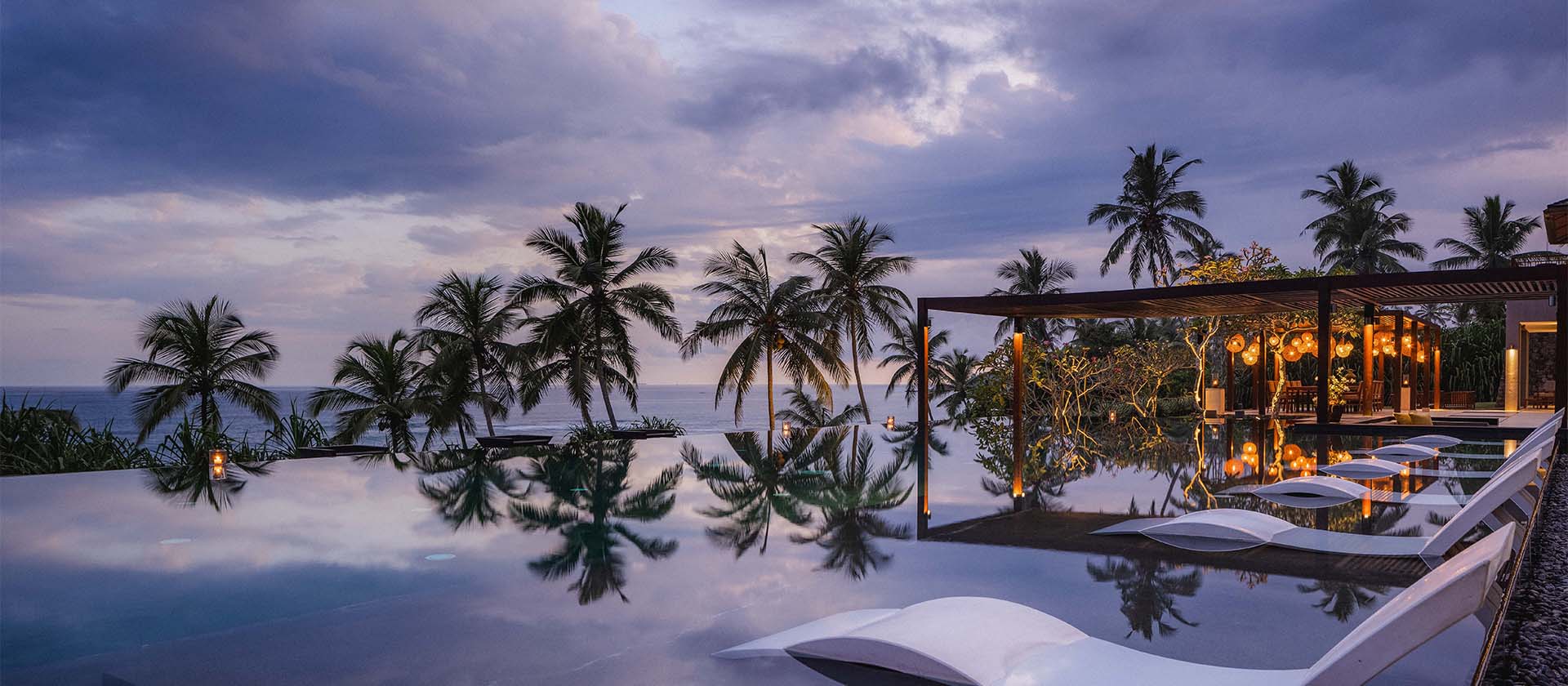 Let's Celebrate
Spend Christmas at ÀNI Sri Lanka, uncovering the unique magic of our island. We will craft the perfect personalized itinerary, encompassing on- and off-resort activities for all ages, meaningful adults-only time, cultural excursions, watersports and destination dining. Days can be spent relaxing by our two infinity pools with butler service, enjoying spa treatments, playing cricket tournaments with our staff, exploring local beaches and Buddhist temples, or simply walking along the deserted beach below us. Early evening, gather together for shuffleboard sessions with drinks, and special dinners with optional Sri Lankan attire, followed by outdoor movie nights and beach walks under the full moon to spy sea turtles coming ashore to lay their eggs in the warm sand.

Your Christmas celebrations may start, should you wish, on Christmas Eve. Children will be encouraged to join the ÀNI team in decorating the Christmas tree. For last-minute Christmas shopping, a trip to Galle's UNESCO-listed Old Town can be arranged. Enjoy Christmas evening cocktails with carols sung by the girls of Sacred Heart Convent, followed by a visit from Santa Claus (bearing gifts, of course). A special Christmas Eve dinner will be arranged with a live guitarist.

On Christmas Day, guests may choose to celebrate with sunrise yoga followed by exploring the local area and rice-paddy fields by tuk-tuk, pausing for mini waterfalls and playful monkeys. Learn all about cinnamon-production as you sip a cinnamon herbal tea, then enjoy a traditional Christmas lunch with all the trimmings. Relax under the shade of the pandena trees on the beach and unwind with Ayurvedic spa treatments, before savoring a traditional Ceylon afternoon tea on the lawn. Gather together again in the evening for cocktails and canapés, followed by a beachfront barbecue dinner.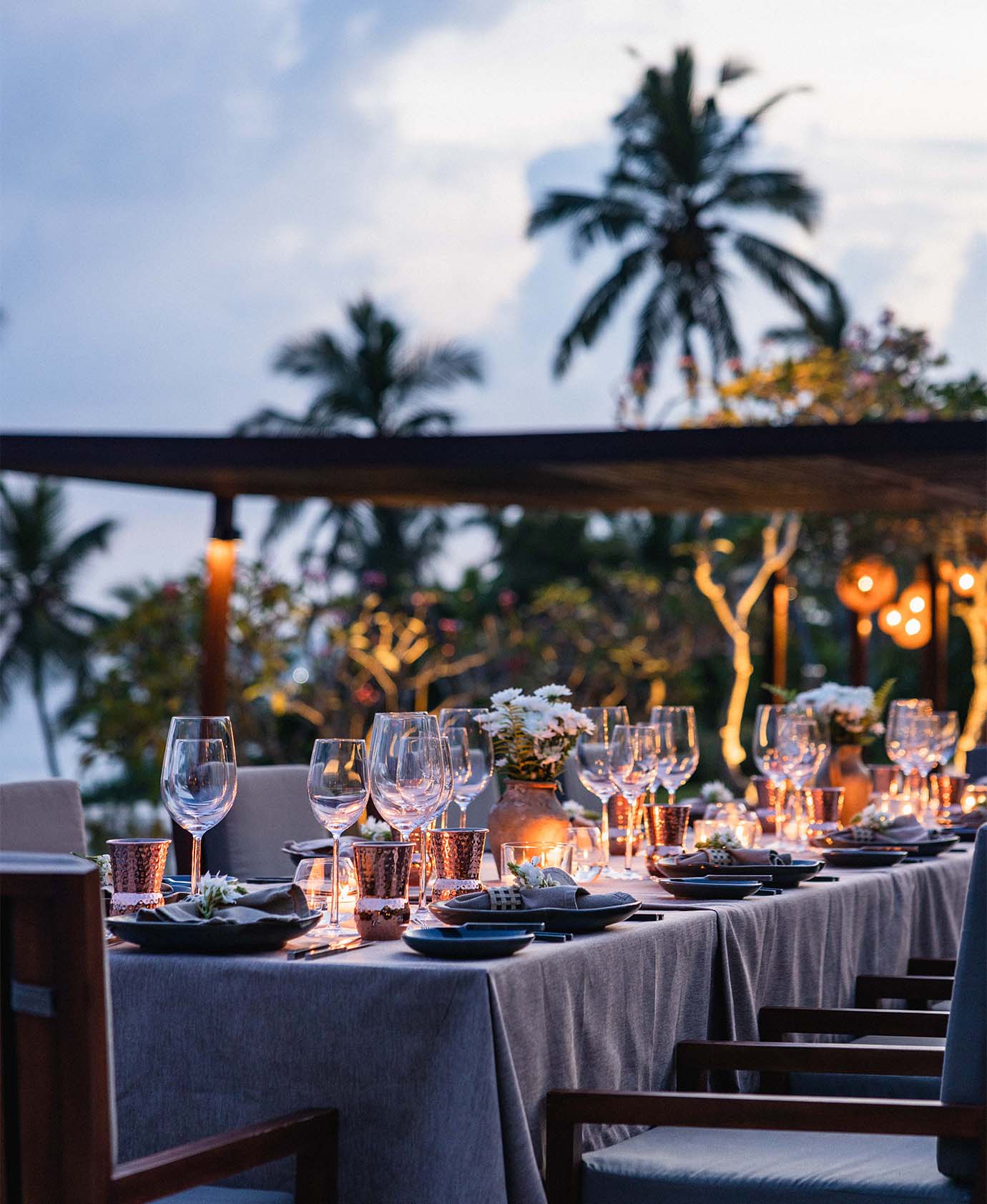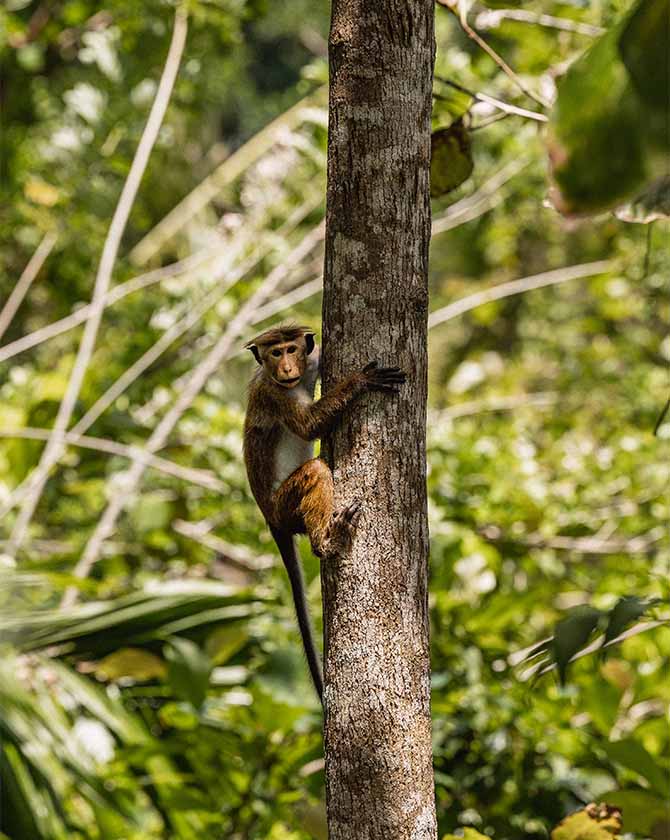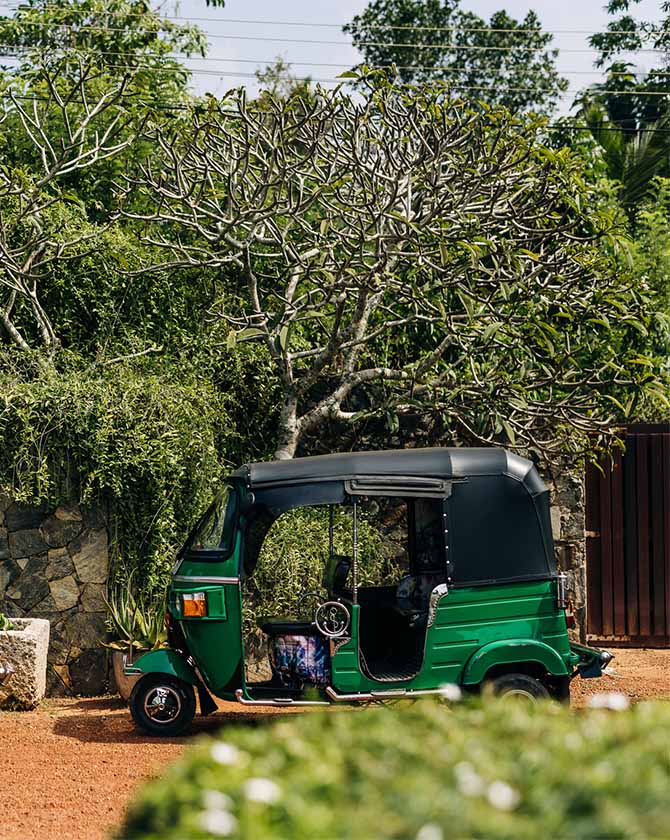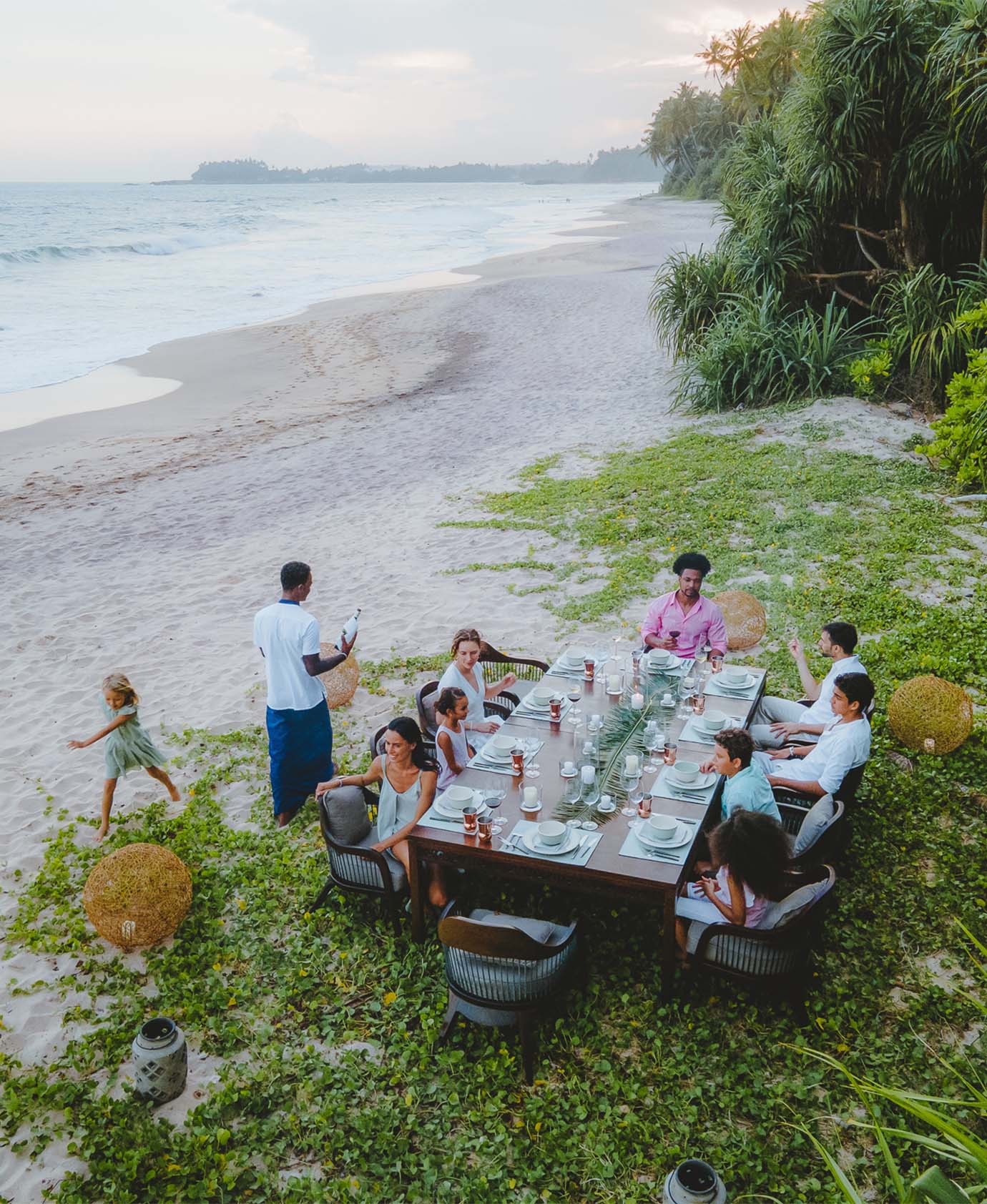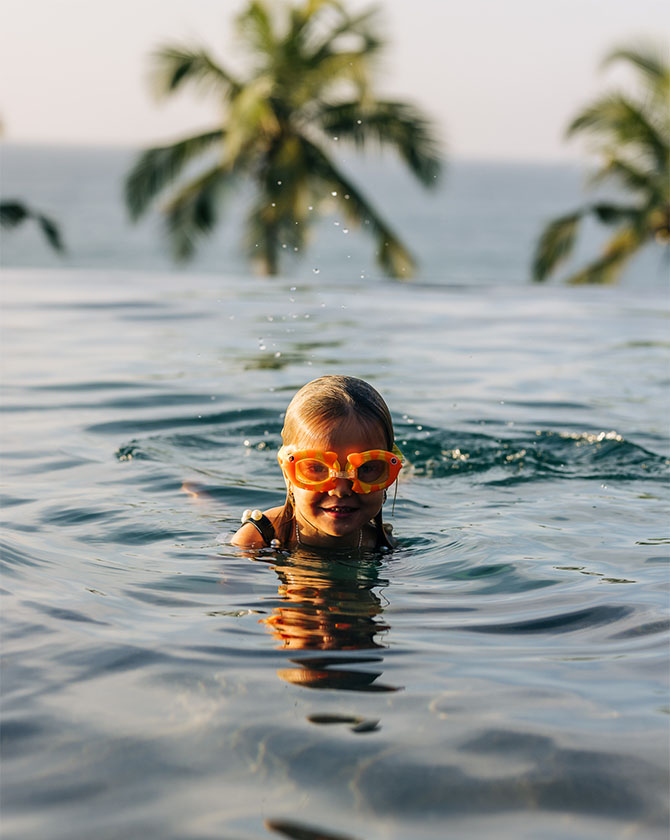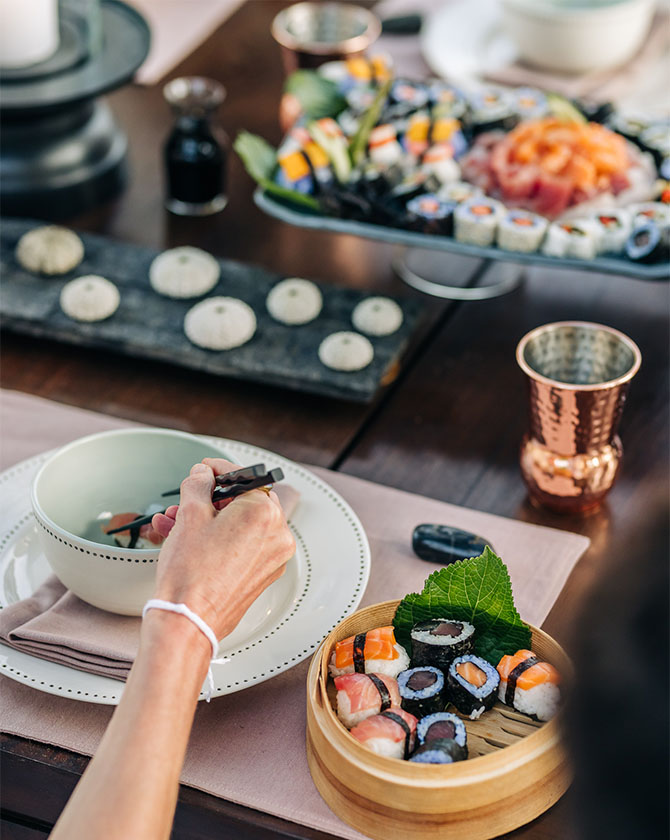 Welcoming 2024
Perhaps you're dreaming of New Year's Eve celebrations with a Sri Lankan twist? As always, we will take our cues from you, but on 31 December, you could enjoy water aerobics and a leisurely breakfast, a local expedition by tuk-tuk, a Japanese lunch or a cookery class for little ones. For something extra special, a boat ride on the stunning Mawella lagoon, enjoying ice-cold drinks and enticing snacks, can be arranged.

Cocktails and rhythmic drumming will kick off the celebrations back at the resort, followed by a New Year's dinner soundtracked by a live saxophonist, then fireworks and well wishes for the year ahead. A DJ can keep you on your feet until early in the morning if you wish.

The next day, begin the year in style with a New Year's brunch and a sun-soaked day of exploring and relaxation, or the option to take part in our social initiatives, dispensing school bags and stationery to local school children.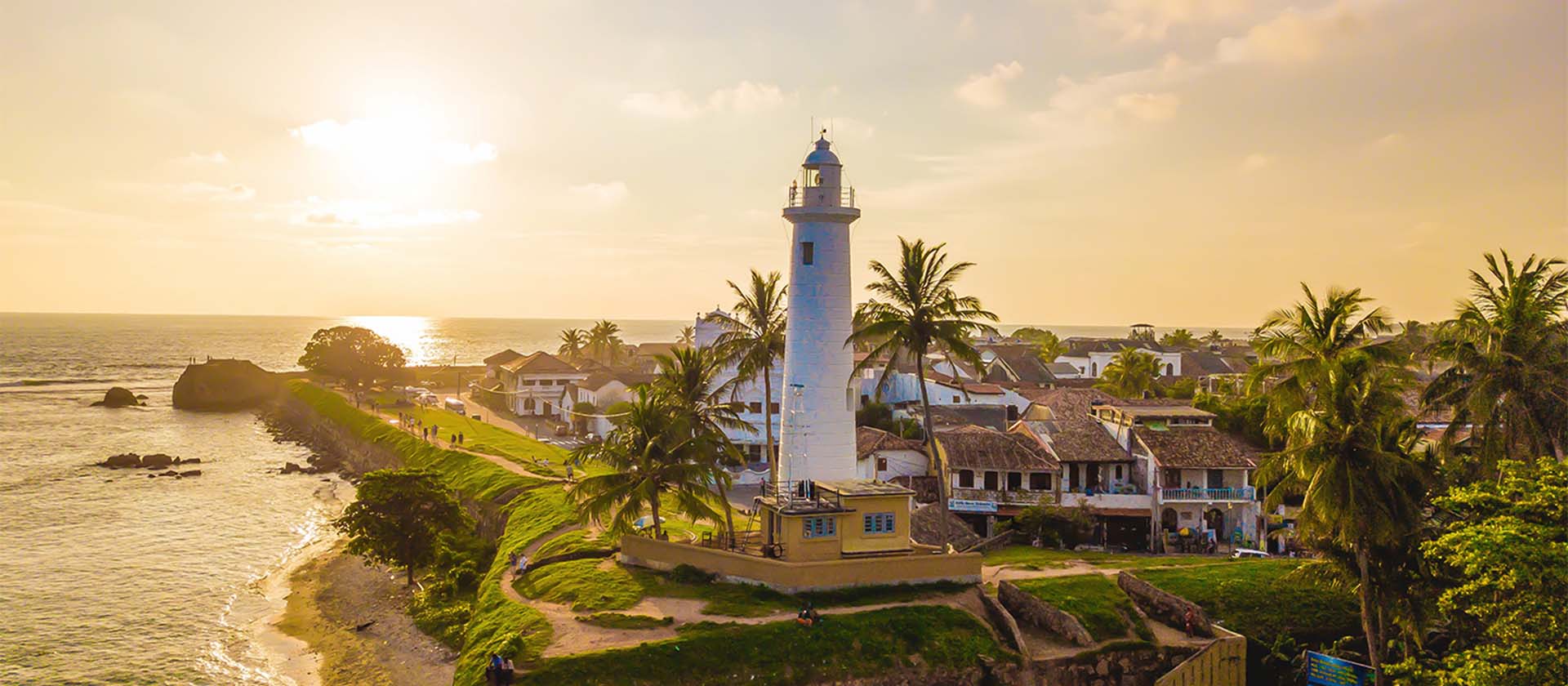 Additional Experiences
Our in-house Concierge team can plan extra activities for you, highlighting the additional costs. Suggested discoveries include a visit to the beautiful city of Galle and its historic Fort. Guests can also visit the virgin white-tea factory estate, an hour's drive from the resort, combined with (time permitting) a stop to see the famous balancing stilt fisherman. We can recommend lunch at a local, colonial-era restaurant, followed by a guided tour with souvenir shopping and rampart walks.

If wildlife is more of an interest, a visit to Udawalawe National Park (less than two hours away) to spot the wild elephants is a must. Experience a three-hour safari tour, followed by a picnic lunch within the park. December to April is also whale season. An early start is essential to see these magnificent mammals. A 45-minute drive takes you to Mirissa Harbour to catch the boat at 6.45am, embarking on a four-hour tour. Enjoy a picnic breakfast on board with your preferred beverages. Guests may also extend the trip, enjoying a Sri Lankan style lunch on the boat too.

For the perfect end-of-day experience, a floating trip across the Mawella Lagoon is one of the most relaxing experiences we can suggest. As the afternoon light fades to its softest, the monkeys and birds come out from the mangroves to sit by the water as you gently float by. Our guests are serenaded by a beautiful flutist and served a personalized selection of canapés, cocktails and wine.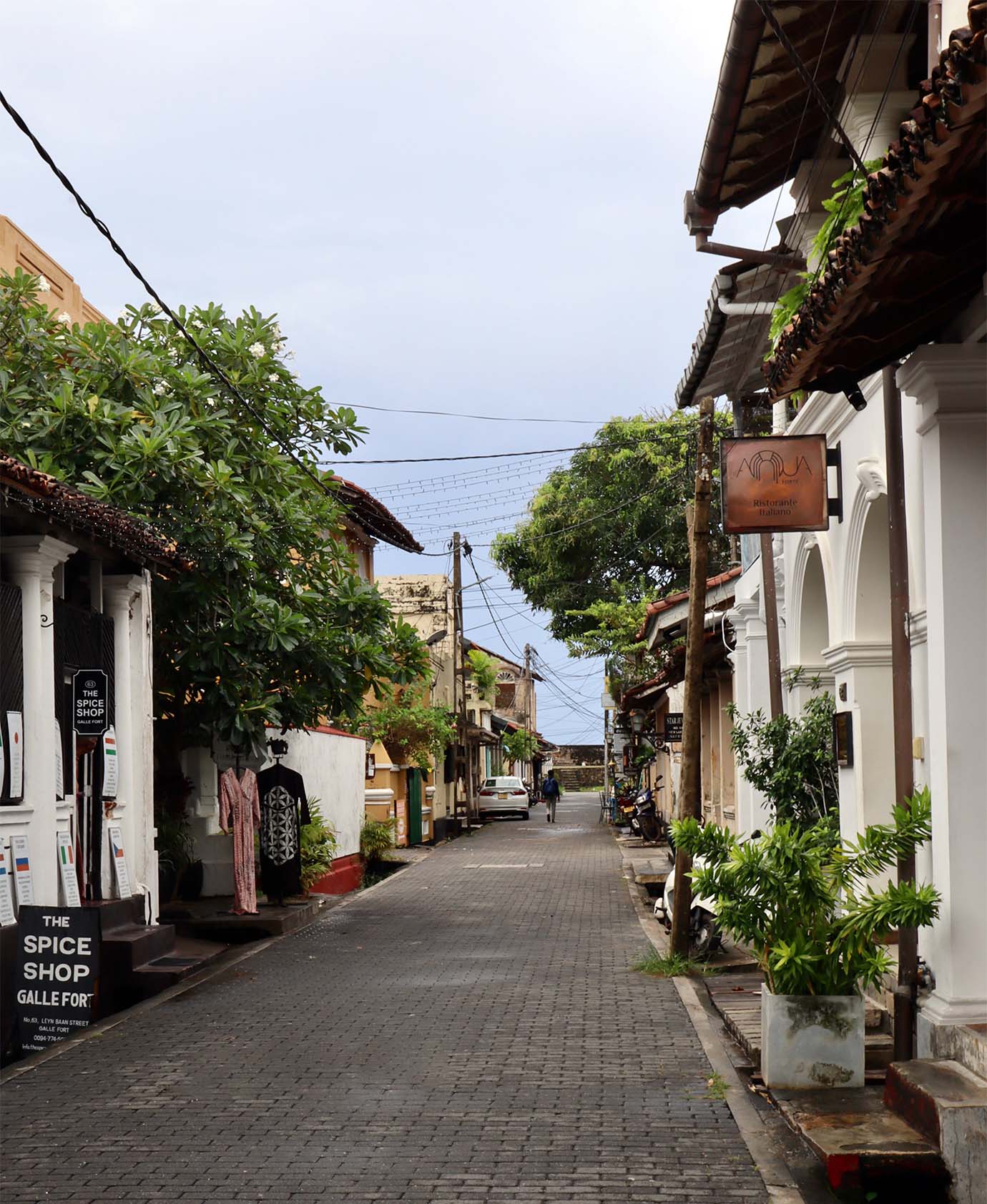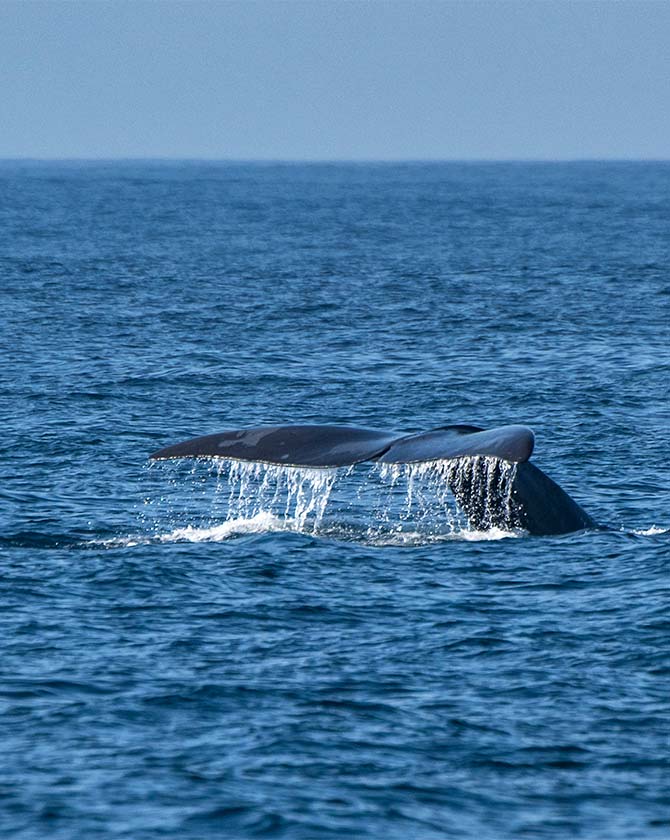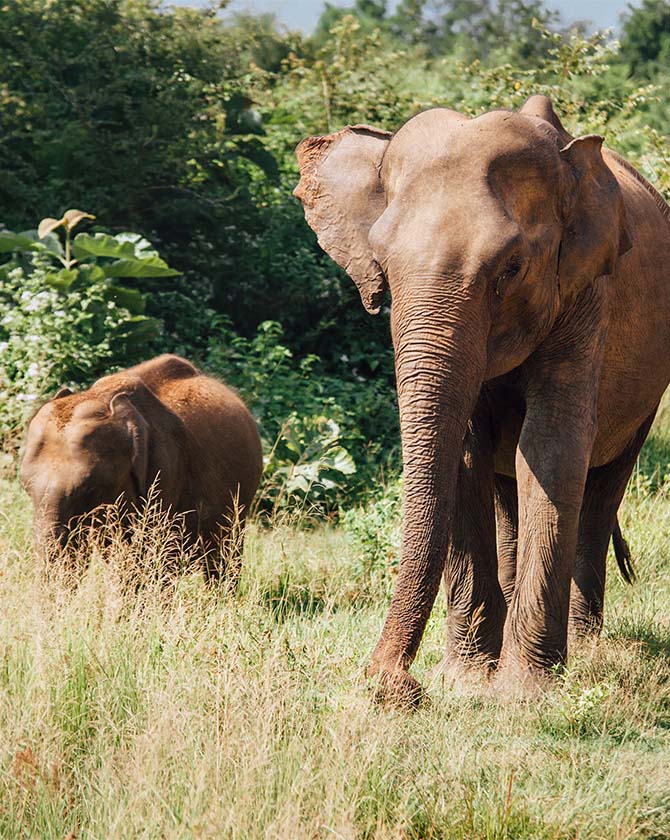 Festive stays start from a minimum of seven nights with a full resort buyout. To inspire your dream holiday at ÀNI Sri Lanka, we have created two sample itineraries for Christmas and New Year. Should you wish to receive a copy of our brochures or discuss a future booking, please don't hesitate to contact our team.